Clark receives NWC teaching award
Saturday, May 11, 2013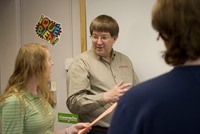 Rick Clark, instructor in Spanish at Northwestern College, has been named this year's recipient of the Northwestern Teaching Excellence Award. He received a $1,500 check and a commemorative plaque during the college's commencement ceremony on May 11.
Sponsored by the Alumni Association, the award is administered by a selection committee made up of members of the Student Government Association and the Sigma Tau senior honor society, along with past award winners and a representative of the Faculty Development Committee. Students nominated 11 professors for the honor, and the committee chose Ray Gibler, assistant professor of accounting, and Dr. Mitch Kinsinger, professor of religion/Christian education, as finalists along with Clark.
The major factor used in selected the award winner is evidence of strong teaching ability. The committee looks at course evaluations and a teaching philosophy statement in addition to the comments of nominators.
Clark, in his 16th year on the faculty, becomes only the third professor to receive the award twice; he also was the winner in 2007. He is described by students as being passionate about helping them learn. "He made learning Spanish fun and interesting with his personality and variety of teaching tactics," wrote one student. 
Clark keeps the pace moving in his classroom. "I believe you shouldn't do hardly anything in the classroom for more than five to seven minutes," he says. "And if you do, you should approach it in two or three different ways." So in his classes, a typical period could include an activity or game, some work with the textbook, a time of singing Spanish worship songs, a vocabulary quiz, and exercises in which students pair up to practice Spanish speaking.
Chairman of the modern foreign languages department, Clark teaches mostly introductory and intermediate courses.
"I know a lot of students have not had a good experience with language in the past. I love being able to transform that for them—to help them realize learning a language can be good and fun," says Clark. "It's so exciting to see them get to the point where they can carry on conversations." 
Raised in Ecuador as the son of missionary parents, Clark has taught Northwestern study abroad courses in that country. He has also led mission trips to Ecuador, Mexico and Nicaragua; served as a lay pastor for a Hispanic congregation; provided translation services in the community; and presented papers at meetings of the North American Christian Foreign Language Association.
"He cares about his students—not just the grades or the material, but he wants us to learn about life and grow in our faith," wrote a student. "He is a great man, and it shows through his teaching."
Before joining the Northwestern faculty, Clark taught high school Spanish and English for 22 years, the last 17 of them at MOC-Floyd Valley High School in Orange City. A graduate of Wheaton College in Illinois, he earned a master's degree in Spanish from the University of Northern Iowa.