Northwestern to host conference
Thursday, May 17, 2012
Northwestern College will host the eighth annual Iowa Interpreters and Translators Association (IITA) conference on Saturday, June 2, from 8:30 a.m. to 4:30 p.m. The theme of the conference is "Lessons from the Language Lab."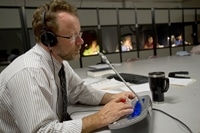 Piet Koene, assistant professor of Spanish, translation and interpretation at Northwestern, will lead pre-conference workshops on June 1. These workshops will include extensive, hands-on interpreting exercises in Northwestern's simultaneous interpretation lab, the only one of its kind in the Midwest.
Koene and Dr. Diana Gonzalez, associate professor of modern foreign languages at Northwestern, will be among the conference's speakers. Koene will present the keynote speech, "The State of the Interpreting Profession: Challenges, Innovations and Responses," and offer workshops in the lab. Gonzalez's presentation, "When Spanish Looks Different," will focus on the difficulties of English to Spanish translation.
About 40 people are expected to attend the conference. The IITA seeks to provide education and promotion for the translation and interpretation profession in Iowa.
Northwestern College is one of only four colleges and universities in the U.S.—and the only Christian college—offering a bachelor's degree in Spanish/English translation and interpretation.