Northwestern English professor hosts discussion at writing conference
Wednesday, April 25, 2018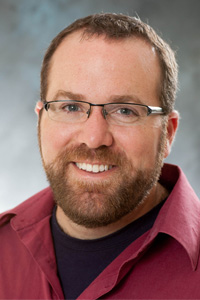 Dr. Sam Martin, assistant professor of English at Northwestern College, co-hosted a writing circle at the Festival of Faith & Writing held at Calvin College in Grand Rapids, Mich., April 12–14.
Martin co-led a writing circle for 15 writers, both new and established, titled "Genre-Bending Fiction for Misfit Writers." The small group provided a space for writers to discuss and work on aspects of "hard-to-classify, genre-bending fiction."
"Sometimes our stories don't fit in neat genre-boxes because we don't fit in such boxes," Martin noted in the proposal to host the conference writing circle.
Founded in 1990, the Festival of Faith & Writing is an international, biennial celebration of literature and belief that creates a space for discussion and shared discovery for its thousands of attendees through lectures, readings, conversations, films, workshops, concerts, plays and more. Four faculty members and 12 students from Northwestern attended this year's event.
Martin is the author of a novel, "A Blessed Snarl"; a collection of short stories titled "This Ramshackle Tabernacle"; and several other pieces of short fiction and creative nonfiction. He was recently selected to receive the grand prize in ScreenCraft's 2017 Cinematic Short Story contest for his story, "Syringe-Fed Ferrets."
A member of Northwestern's faculty since 2012, Martin earned a doctorate in English language and literature at Memorial University of Newfoundland, a master's degree in creative writing from the University of Toronto, and a bachelor's degree from Redeemer University College in Ancaster, Ontario.