Northwestern professor awarded college's Endowed Research Fellowship
Friday, April 13, 2018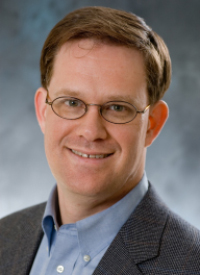 Northwestern College has awarded a $10,000 Endowed Research Fellowship to Dr. Michael Kensak, professor of English and German and co-chair of the English department.
The Endowed Research Fellowship funds substantive summer research that contributes meaningfully to the faculty member's discipline. The award is provided through the generosity of an anonymous donor and may be used for stipend, travel, equipment, books, supplies and student assistants.
Kensak will use his fellowship to work on a book of literary criticism written for a general audience. His subject won't be an entire genre, time period, author or even text. Rather, it will be a single word, "transpire," used in the poem "To His Coy Mistress," by Andrew Marvell. Kensak's goal is to explore the word using the lens of different subject matters.
"The best way to capture literary meaning," he says, "is to view it from multiple perspectives and then overlay them to create a richer representation."
The grant will allow Kensak to conduct research at Emory University's Woodruff Library and to hire a student research assistant for the summer: Marie Jeppesen, a graduating senior from Sibley, Iowa, who is majoring in English teaching and who has already contributed to the project through an honors project.
Kensak holds degrees in comparative literature and music performance from Princeton and a doctorate in English from Vanderbilt University. His work has appeared in journals that include The Chaucer Review, Studies in Philology, and Philological Quarterly. In addition to German, he is proficient in Latin, Middle English and Old English, and has a reading knowledge of several more modern and ancient languages. He has served as Northwestern's Honors Program director, co-director of assessment, and director of integrative general education.