Northwestern English professor presents paper at annual meeting
Thursday, March 22, 2018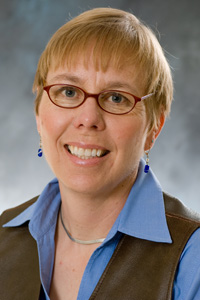 Dr. Ann Lundberg, professor of English at Northwestern College, presented a paper at the Nineteenth Century Studies Association conference in Philadelphia on March 17.
Lundberg's paper, "Visualizing Geologic Time and Process in Western Survey Publications," was part of a panel on the American West. Her scholarship focused on a geologic report of Colorado's Elk Mountains written by artist and geologist William Henry Holmes. A three-dimensional model of the mountain range, where faulting and folding have completely overturned sedimentary rock layers, was displayed at the country's Centennial Exposition in Philadelphia in 1876, alongside models of Indian ruins Holmes had explored in southwest Colorado.
"I'm suggesting that the geological survey of the Elk Mountains was a way to gain control over chaos," Lundberg says, "and that it plays into a larger cultural narrative of finding a way to control the Western frontier and landscape through scientific knowledge, through the mapping of resources, and through comprehension."
Lundberg is a graduate of the University of Wyoming, where she majored in geology and English, and holds a master's degree and doctorate in English from the University of Notre Dame. She has served as a seasonal interpretive ranger at national parks across the U.S. and is a member of the Western American Literature Association, the Nineteenth Century Studies Association, and the Association for the Study of Literature and the Environment.