Canadian novelist to read from new work at Northwestern College event
Wednesday, October 18, 2017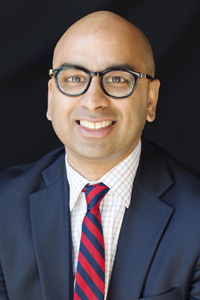 Canadian novelist Randy Boyagoda will read from his forthcoming novel, "Original Prin," during a Northwestern College Deep Song Reading Series event at 6 p.m. on Saturday, Nov. 4. The free reading, in Town Square Coffee House, 125 Central Ave. NE, Orange City, is co-sponsored by Northwestern's English department and Dordt College's Andreas Center.
Boyagoda has written two novels. "Governor of the Northern Province," published in 2007, was a finalist for the ScotiaBank Giller prize. "Beggar's Feast," which has been published around the world to international acclaim, was nominated for the 2012 IMPAC Dublin Literary Prize and named a New York Times Editor's Choice selection. His third, "Original Prin," is slated for publication in 2018 and will tell the story of a Catholic professor posted to a Middle East country where he encounters a Muslim man from Boston who's on his own journey.
Also the author of a 2015 biography, "Richard John Neuhaus: A Life in the Public Square," Boyagoda frequently contributes to the New York Times, CBC Radio, Wall Street Journal, Harper's, Guardian and more. He served as president of PEN Canada, a writers' organization that celebrates literature and defends freedom of expression, from 2015 to 2017.
Boyagoda works as the principal and vice president of the University of St. Michael's College, a Catholic institution affiliated with the University of Toronto. He previously was an English professor and administrator at Ryerson University. He earned doctoral and master's degrees from Boston University and a bachelor's degree from the University of Toronto.
The Deep Song Reading Series seeks to enable students and community members to listen to new and established authors speak about their works and share some of their writing experiences.