Northwestern director of academic support presents at conference
Thursday, March 16, 2017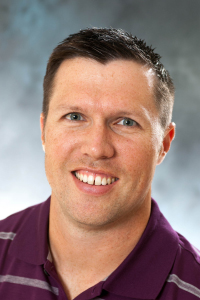 Dr. Tom Truesdell, director of academic support at Northwestern College, recently presented at the International Writing Centers Association (IWCA) Collaborative in Portland, Ore.
In collaboration with Dr. Jennifer Wells, director of writing at New College of Florida, Truesdell presented a workshop, "What We Already Know: Connecting Writing Center and Institutional Data." They expanded on how writing center administrators can use existing center and institutional data to better understand how writing centers contribute to student learning and retention. Truesdell also shared research on the correlation between the amount of visits to Northwestern's Peer Learning Center to student retention and strong graduation rates experienced by tutors compared to non-tutors. He also shared how NWC is using peer tutors to better understand student engagement data.
The IWCA seeks to foster communication among writing centers and provide a forum to address concerns. The organization is comprised of directors and staff members of writing centers at universities, two-year colleges and public schools around the world. During the annual conference, participants are encouraged to attend a variety of sessions, including roundtable discussions, workshops, labs and collaborative writing activities.
Prior to joining Northwestern's faculty in 2006, Truesdell served as the writing center specialist at the College of Lake County in Illinois. A graduate of Northwestern, he earned a master's degree in writing theory and pedagogy from DePaul University and a doctorate in composition and English teaching from Indiana University of Pennsylvania.