Northwestern and Dordt College to host joint Deep Song Reading event
Wednesday, October 26, 2016
Northwestern College will host a joint Deep Song Reading Series event with Dordt College on Thursday, Nov. 10, at 7 p.m. The event will take place in Northwestern's Te Paske Gallery.
Dr. Keith Fynaardt, English professor, humanities director and First-Year Seminar coordinator at Northwestern College, will read the opening scene from his novel-in-progress, tentatively titled "Dairylands." The book focuses on a family of southern California dairy farmers as they plan a road trip to move their dairy operation to Iowa.
"A lifelong interest in and experience with agriculture, combined with a dissatisfaction with much recent fiction written about the subject, inspired me to write," says Fynaardt, who was awarded the college's endowed professorship from 2001 to 2006 for his work in agricultural literature.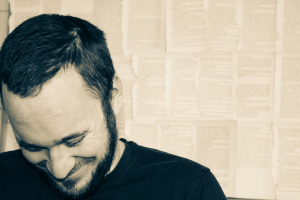 Luke Hawley, associate professor of English at Dordt College, will read a portion of his novel, "The Birth of Birds," which follows a band, Elephant Heart, from its conception to stardom.
The story takes place in the Twin Cities of Minnesota and is told through the perspective of music critic Elliot Granger, who follows the success of Elephant Heart and the band's lead singer, Avey. As the band's success grows, Avey, a new husband and father, scuffles to record an album, make ends meet and keep everyone happy.
"I'm really interested in how narrative affects the way we think about bands," says Hawley. "Sometimes I wonder if we don't love the story more than the music, so I wanted to explore that. I also wanted to write a bunch of new songs, and it made sense to do that in correlation with the fiction I'd be writing."
Hawley has authored a collection of short stories entitled "The Northwoods Hymnal," which is accompanied by a corresponding album he composed, wrote and performed. In addition to writing, he sings, plays guitar, and is currently a member of the band The Ruralists. He presented a seminar on writing genres for Augsburg College's M.F.A. in creative writing program and, in 2013, he was a finalist for the Johnny Mercer Songwriting Project.
The Deep Song Reading Series is hosted by Northwestern's English department for the purpose of allowing students and community members the opportunity to listen to new and established authors speak about their works and share some of their writing experiences.