English professor presents at conference
Friday, August 5, 2016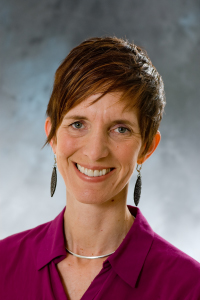 Kim Van Es, lecturer in English at Northwestern College, presented at the annual conference of the Assembly for the Teaching of English Grammar (ATEG) Aug. 4–5 in Charlottesville, Va.
Van Es' presentation, "Cohesion in Barack Obama's 'Toward a More Perfect Union,'" expounded upon the parallels between Martha Kolln's tools of sentence cohesion, described in her book "Rhetorical Grammar," and a campaign speech Obama gave in June 2008.
"One of the most transformative grammatical topics I have taught over the last 25 years is the concept of cohesion, which refers to everything from the connection of sentences to another, to the flow of a text, to the ways in which a paragraph of separate sentences can become a unified whole," says Van Es.
Citing Kolln's book, Van Es teaches her students about the known-new contract, which is the understanding between writers and readers that known information will appear in the subject of a sentence and the new information is presented in the predicate. She also introduces tools of sentence cohesion, such as repetition, pronouns, passive voice, sentence inversion and parallelism.
"A few years ago, I found the perfect speech that demonstrated the use of these tools," says Van Es, referencing Obama's campaign speech. After reading Kolln's chapter on cohesion and discussing the known-new contract, students watched part of this speech in class. Afterward, they reread the speech and marked where Obama enlisted tools of cohesion.
The ATEG conference celebrated strategies, methods and ideas related to effective grammar instruction, especially when used to make grammar accessible, relevant and engaging to all students. The conference theme focused on grammar instruction designed to reach the diverse array of students that teachers serve.
A member of Northwestern's faculty since 2002, Van Es coordinates the college's English teaching major and specializes in writing and grammar. In 2013, she received Northwestern's first Faculty Inspirational Service Award for going above and beyond expectations, personifying a strong Christian commitment, and serving as an inspiration to the campus community. Prior to teaching at Northwestern, Van Es taught at the high school and college level for 20 years, and was also a writer for the Write Source Company, in addition to serving as a copy editor for 12 books.
A graduate of Dordt College, Van Es earned a master's degree in English education from the University of Iowa.