Northwestern English prof presents at festival
Wednesday, April 20, 2016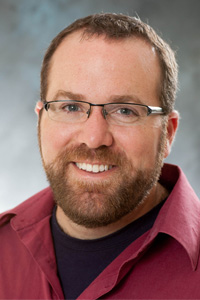 Dr. Sam Martin, assistant professor of English at Northwestern College, presented at the 2016 Festival of Faith and Writing April 14–16 in Grand Rapids, Mich.
During the conference, Martin served on a panel called "Rendering the Body in Art and Words." His presentation, "Rendering Dead Bodies in Crime Fiction," focused on his novel-in-progress and how a Christian writer might think through some of the problematic issues of this subject in light of the incarnation.
Hosted by Calvin College, the Festival of Faith and Writing brings both new and established literary artists to speak about a variety of issues relating to faith, ethics, justice and the craft of storytelling. The festival features everything from poetry readings and author interviews to solo lectures, concerts, plays and small group discussions. Over 100 sessions were offered during the three-day event, all geared toward the diverse interests of readers and writers.
A member of Northwestern's faculty since 2012, Martin holds research interests in fiction writing, creative nonfiction and contemporary art writing. He is the author of the novel "A Blessed Snarl" and a collection of short stories titled "This Ramshackle Tabernacle," which was nominated for ReLit and BMO Winterset awards in 2012.
A graduate of Redeemer University College in Ancaster, Ontario, Martin earned a master's degree in creative writing from the University of Toronto, Canada, and a doctorate in English Language and literature at Memorial University of Newfoundland.