English professor to present at conference
Wednesday, November 11, 2015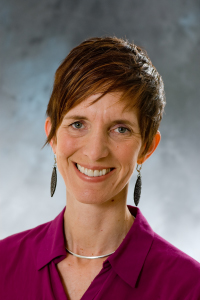 Kim Van Es, lecturer in English at Northwestern College, will present at the National Council of Teachers of English (NCTE) annual convention Nov. 19–22 in Minneapolis.
The convention will feature a number of roundtable sessions for attendees to participate in intensive learning experiences through group discussions, hands-on projects and lesson creations. Van Es will be a member of a panel on "The Carnivals of Truth: Rainbow Perspectives on Critical Issues in English Language Arts (ELA)."
Van Es' presentation, "Literature as Means of Interfaith Dialogue," will offer suggestions for ways to effectively use young adult books that include an element of religion in secondary ELA classrooms. "Good literature doesn't preach, so the best authors craft their stories around plot and characters, not ideologies," says Van Es. "In their books, religion is just a natural part of the story."
Her session will highlight young adult books that can contribute to interfaith understanding and dialogue. "Fortunately, there are gifted young adult authors who have written books that are not 'about' religion, but include religions in ways that open our hearts to the people who share those beliefs and values," says Van Es.
Participants will read excerpts from these selected books and discuss how adolescents can respond to this theme in literature. They will also be encouraged to share their own experiences using young adult literature that includes religion.
The NCTE is a professional association of educators in English studies, literacy and language arts that is devoted to improving the teaching and learning of English and the language arts at all levels of education. Each year, the organization hosts a conference that draws thousands of elementary, middle and secondary educators; college faculty; and administrators from around the world to participate in professional learning and programming. The conference allows attendees to hear from award-winning speakers, attend a number of session and workshops, and test the latest teaching materials.
 A member of Northwestern's faculty since 2002, Van Es received the college's first Faculty Inspirational Service Award in 2013. The coordinator of Northwestern's English teaching major, she has taught English at the high school and college level for 20 years and has served as a copy editor for the Write Source Company.
A graduate of Dordt College, Van Es earned a master's degree in English education from the University of Iowa.