Authors to read work in Deep Song series
Thursday, August 13, 2015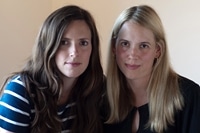 Northwestern College's 2015–16 Deep Song Reading Series will feature authors Amy Andrews and Jessica Mesman Griffith on Tuesday, Sept. 1, at 7 p.m. The event will take place in the college's Te Paske Gallery.
Andrews and Griffith met in a creative writing class in graduate school and bonded over their mutual tendency to write about God. After graduation, the two women stayed in touch by writing letters to each other, first only during the days of Lent, but then expanding over a course of years. Their letters became deeply personal and profound accounts of conversion, motherhood, tragedy and faith, which were later gathered together into a book, "Love and Salt: A Spiritual Friendship Shared in Letters," published by Loyola Press. The volume won a 2014 Christopher Award, given to media that "affirm the highest values of the human spirit."
"Amy's and Jess' story shows me what a true spiritual friendship looks like," says Dr. Sam Martin, assistant professor of English at Northwestern. "They present their whole journey with God, not just the ecstatic parts but the painful passages as well. I'm excited to have them on campus to tell their story and to show our students that friendships formed in college can sustain them on the road ahead, whatever difficulties they may face."
Andrews' writing has also appeared in Creative Nonfiction, River Teeth and Bellingham Review. She currently teaches mathematics at Northwestern University in Evanston, Ill.
Griffith has had essays published in Elle, Creative Nonfiction and Godspy. She has also published two books, "Daily Inspiration for Women" and "2016: A Book of Grace-Filled Days."
Andrews and Griffith will also speak during Northwestern's chapel services on Tuesday, Sept. 1, at 11:05 a.m. and Wednesday, Sept. 2, at 10:05 a.m. The chapel services are free and open to the public.
The Deep Song Reading Series is hosted by Northwestern's English department for the purpose of allowing students and community members the opportunity to listen to new and established authors speak about their works and share some of their writing experiences.