Academic support director earns doctorate
Wednesday, June 18, 2014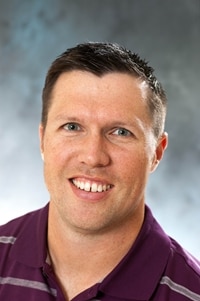 Tom Truesdell, director of academic support at Northwestern College, has earned a Ph.D. in composition and teaching English to speakers of other languages (TESOL) from Indiana University of Pennsylvania.
Truesdell's dissertation, "The Interplay of Theory and Practice in Writing Center Work," focused on three key figures in the writing center field—Harvey Kail, Muriel Harris and Jeanne Simpson—and examined their approaches toward engaging theory and practice, which is not often implemented due to tension between modern writing center theorists and practitioners.
A graduate of Northwestern and a member of the college's faculty since 2006, Truesdell also serves as a First-Year Seminar instructor. Prior to joining Northwestern's faculty, Truesdell served as the writing center specialist at the College of Lake County in Illinois and as a graduate assistant at DePaul University, where he earned a master's degree in writing theory and pedagogy.
"The composition and TESOL program at Indiana University of Pennsylvania is one of the top programs in the world, and one of the few to combine composition and applied linguistics," says Truesdell. "My degree will help me better fulfill my role as the college's new Writing Across the Curriculum coordinator."