NWC digital yearbook available in iTunes
Wednesday, May 7, 2014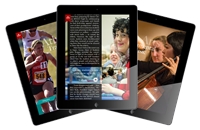 The 2013–14 Northwestern College yearbook is now available to iPad users for free download in the Apple iTunes store. The app, which includes photo slideshows of athletics teams, dorm life, fine arts activities and service projects, can be downloaded at: http://tinyurl.com/qyhntmc.
The app, the second installment of the college's digital yearbook, came out of a collaborative effort between Northwestern's advancement office, Help Desk Manager Matt Austin and students enrolled in a communications course taught by Dayne Logan, instructor in communications. A team of five students created the application last spring in Logan's Multiplatform Communications course. This semester, seven students worked together to compile the app and create new features: Elizabeth De Jong, Jeriah Dunk, Kaitlin Floerchinger, Elliott Johnson, Amber McCoy, Teresa Odera and Kyle Stanek.
The students designed platforms to highlight five of the most newsworthy campus stories from the past year. The rebirth of bingo, the emergence of a dynamic theatre duo, the migration of students from West and Hospers halls, the final-eight run of the women's basketball team and the inaugural Colombia missions trip all were featured.
Several multimedia components are sprinkled throughout the yearbook, as buttons trigger audio files, video files and pop-up elements. The yearbook also includes photo rosters of those living in the residence halls.
"The students put in long hours to implement the new features," says Logan. "The end result is pretty impressive."