Award-winning author to visit Northwestern
Wednesday, March 19, 2014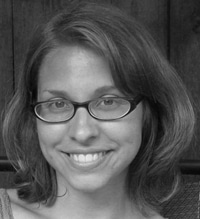 Award-winning novelist Jessie Van Eerden will speak in Northwestern College's chapel services on Monday, April 7, at 10:05 a.m. and Tuesday, April 8, at 11:05 a.m. The event is free and open to the public.
Van Eerden's nonfiction work has appeared in numerous publications, including "The Oxford American," "River Teeth" and "Bellingham Review." Her prose has also been included in "Best American Spiritual Writing" and "Red Holler: An Anthology of Contemporary Appalachian Literature." In 2012, Van Eerden published her first novel, "Glorybound," which won the 2012 ForeWord Review's Editor's Choice Prize Fiction award.
"I am excited to have Jessie visit campus," says Dr. Sam Martin, associate professor of English at Northwestern. "She is a remarkable and compelling storyteller, one who cares deeply for both her characters and the language with which she brings those characters to life on the page."
A West Virginia native, Van Eerden has taught for over 10 years in college classrooms and in adult literacy programs. A graduate of West Virginia University, Van Eerden earned a Master of Fine Arts degree in nonfiction writing from the University of Iowa. She currently directs the low-residency M.F.A. writing program at West Virginia Wesleyan College.
In additional to her chapel talks, Van Eerden will also read from a selection of her work during a Deep Song Reading Series presentation in the Te Paske Gallery on April 8 at 7 p.m. The Deep Song Reading Series is hosted by Northwestern's English department for the purpose of allowing students and community members the opportunity to listen to new and emerging authors speak about their works and share some of their experiences in writing.
Van Eerden is appearing under the auspices of the Ronald R. Nelson Scholars and Artists in Residence Program, which seeks to inspire students with scholarship that encourages peace and justice. The program is named in honor of a history professor who taught at Northwestern from 1974 until his death in 1985.