Kensak speaks at assessment conference
Wednesday, January 8, 2014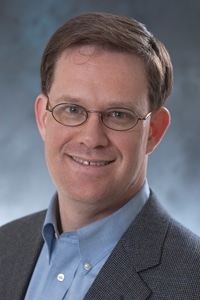 Dr. Michael Kensak, director of integrative general education and professor of English and German at Northwestern College, recently presented a workshop at the 2013 Assessment Institute in Indianapolis. The annual conference, hosted by Indiana University-Purdue University Indianapolis, focuses on outcomes assessment in higher education and is widely attended by department chairs, deans and college presidents.
Kensak's presentation, entitled "Grassroots General Education Assessment," described the challenges of effective cross-departmental faculty communication during the development of a new general education assessment plan at Northwestern.
Ten discussions were held to facilitate campus-wide conversations about student learning objectives. After reading "Assessing General Education Programs" by Mary Allen and reflecting on Northwestern's unique campus environment, Kensak and his colleagues were able to identify six potential obstacles to successful communication, including competing agendas and resistance to change. "Professors, who are experts in their fields, have historically been more reluctant than other professionals to collaborate with their colleagues," explains Kensak. "The experiences of the 16 professors teaching a common First-Year Seminar, however, have demonstrated that collaboration can be richly rewarding."
Kensak's conference presentation described the institutional processes and rhetorical approaches that helped facilitate faculty collaboration. "My focus was on strategies for building consensus among groups with different perspectives and interests," says Kensak. "I paid attention to the language of invitation and to celebrating the resources and expertise that each member of our faculty brought to the conversation." Attendees were also presented with strategies for increasing faculty buy-in to general education assessments at their home institutions.
A member of Northwestern's faculty since 1999, Kensak earned degrees in German and music from Princeton University and a doctorate in English from Vanderbilt. His work has appeared in numerous journals, including The Chaucer Review, Studies in Philology and Philological Quarterly.