English prof nominated for literary award
Wednesday, November 13, 2013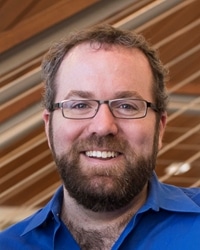 A novel written by Northwestern College English professor Samuel Martin has been long-listed for the 2014 International IMPAC Dublin Literary Award.
Books are made eligible for the award through nominations from public libraries around the world. Over 400 library systems in 177 countries were invited to nominate up to three books for the 2014 award. This year, 152 titles were nominated, including 51 American, 23 British and 11 Canadian novels.
Martin's novel, "A Blessed Snarl," is about Patrick, a Pentecostal pastor who moves his family from Ontario to Newfoundland to begin a church plant. Patrick's life unravels after his wife leaves him, his son moves in with his girlfriend, and he reunites with his estranged father, who may be covering up a past crime.
Nominated by the Newfoundland & Labrador Public Library, Martin joins such distinguished novelists as Peter Carey, Ian McEwan, Colm Toibin, Louise Erdrich and John Irving among the award nominees.
The short list will be made public on April 9, 2014, and the winner will be announced June 12.
A member of Northwestern's faculty since 2012, Martin is also the author of a collection of short stories entitled "This Ramshackle Tabernacle," which was short-listed for the 2010 BMO Winterset Award and long-listed for the 2011 ReLit Award for Short Fiction. He earned a bachelor's degree from Redeemer University College, a master's from the University of Toronto, and a doctorate in English language and literature from Memorial University of Newfoundland.