Author to present lecture at Northwestern
Wednesday, October 30, 2013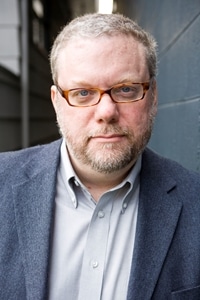 Author, editor and publisher Gregory Wolfe will present a lecture for Northwestern College's Deep Song Reading Series on Wednesday, Nov. 13, at 7 p.m. The lecture will take place in the England Proscenium Theatre in the DeWitt Theatre Arts Center. The event is free and open to the public.
Wolfe's lecture, "The Cave and the Cathedral: Meaning-Making in the Dark," references the Paleolithic paintings in France's Chauvet Cave to understand why human beings are motivated to create art. He then goes on to explore how art and religious thought have been intertwined throughout history.
Wolfe, a resident of Seattle, is the writer-in-residence at Seattle Pacific University (SPU) and the founder and editor of Image, a quarterly journal that seeks to make a lasting impact on our national culture through a commitment to artistic excellence and religious truth. He also founded and serves as director of the Master of Fine Arts program in creative writing at SPU, and has served as a judge for the National Book Awards. He has written several books, including "Beauty Will Save the World: Recovering the Human in an Ideological Age."
"In a renaissance of art grappling with the deep questions of religious faith, Greg Wolfe is a prophetic voice," says Dr. Samuel Martin, assistant professor of English at Northwestern. "In his essays and lectures he points to the historical, artistic richness of the Judeo-Christian tradition, and in his work editing Image journal, he showcases contemporary artists who are renewing and extending that tradition. If anyone is asking if art-making is worthwhile today, they need to come and hear Greg speak."
After earning his bachelor's degree in history and English at Hillsdale College, Wolfe went on to earn a master's degree in English language and literature at Oxford University.
Wolfe will also present a session, "Beauty Will Save the World," at 2:30 p.m. on Nov. 13 at Dordt College in Sioux Center. He will talk to Dordt and Northwestern students about the SPU MFA program and writing workshops associated with Image.
This Deep Song Reading Series event is co-hosted by the Northwestern and Dordt College English departments for the purpose of allowing students and community members the opportunity to listen to authors speak about their works and share some of their experiences in writing.