Van Es honored for faculty service
Tuesday, May 7, 2013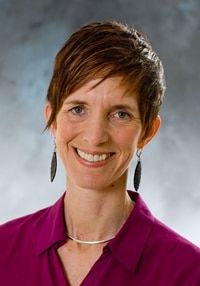 Kim Van Es, lecturer in English at Northwestern College, is the recipient of the college's first Faculty Inspirational Service Award. Her selection was announced at a recognition banquet for faculty and staff on May 6.
The award recognizes faculty members who consistently provide outstanding contributions by going above and beyond what is expected, who personify a strong Christian commitment, and who distinguish themselves as an inspiration to the campus community. A selection committee composed of faculty and staff chose the winner from among candidates nominated by Northwestern employees. The award includes a $750 honorarium.
Van Es, who has 20 years of high school and college teaching experience, coordinates Northwestern's English teaching major. She regularly takes students to professional conferences and implements service learning in the classroom.
"Kim conducts her work with passion and clarity," wrote Dr. Valerie Stokes, assistant professor of social work, in a letter of nomination. "She views her work as developing young people into creative, compassionate citizens who participate in our country and around the world. She has invested in so many lives, whether through numerous Spring Service Projects or invitations for students to come to her home. She also has invested years into Northwestern becoming a warm, inviting place for students of color."
Adrienne Forgette, dean of the faculty, described Van Es as one who goes above and beyond in all she does. "She has been a passionate advocate of the First-Year Seminar and of our conditionally accepted students, working to find good solutions for their academic needs. She is a great adviser and advocate for her students," she wrote.
Van Es is currently leading a book discussion for interested faculty and staff from the texts used in the First-Year Seminar. She also frequently assists colleagues by editing professional papers, theses and dissertations.
The recipient of a master's degree in education from the University of Iowa, Van Es earned a bachelor's degree in English at Dordt College. She has written for the Write Source Company and served as a copy editor for 12 books.