English prof named Mullin Scholar
Thursday, April 25, 2013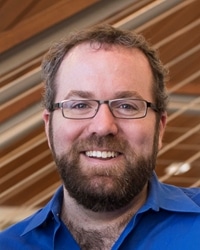 Northwestern College English professor Dr. Samuel Martin has been named a Mullin Scholar at the Institute for Advanced Catholic Studies (IFACS) at the University of Southern California. Martin is the only Protestant among this year's scholars.
As a Mullin Scholar, Martin will participate in the IFACS's Generations in Dialogue program, which hosts weekend retreats that bring together accomplished mentors in academia and the arts with early-career writers, artists and scholars.
Beyond serving as an inspiration for up-and-coming scholars and artists, the Generations in Dialogue program also aims "to create a multi-generational academic community in which participants experience the mutual enrichment that faith informing art and art informing faith provide for the good of each person, spiritual communities and larger society."
Martin is among six scholars and artists from across the U.S. chosen for the program, including an assistant editor at The Cincinnati Review and the coordinator of the M.F.A. program at the University of Alaska at Anchorage. Their discussions on the vocation of the writer will be led by Gregory Wolfe, director of the M.F.A. program at Seattle Pacific University and the founding editor of Image journal.
Martin earned bachelor's and master's degrees from Redeemer University College and the University of Toronto, respectively, and a doctorate from Memorial University of Newfoundland. In addition to teaching creative writing, he is the author of "A Blessed Snarl" and "This Ramshackle Tabernacle," both published by Breakwater Books and available at amazon.com