Martin honored by Image Journal
Wednesday, March 6, 2013
Northwestern College English professor Dr. Samuel Martin, author of the novel A Blessed Snarl, has been named the March 2013 Artist of the Month by Image Journal .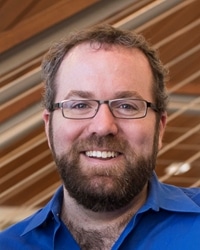 Published quarterly and available to subscribers both in print and digitally, Image publishes "the best writing and artwork that is informed by—or grapples with—religious faith." Editors for the journal include Annie Dillard and Larry Woiwode, and the diverse list of contributors includes Madeleine L'Engle, John Updike and Elie Wiesel.
An excerpt from Martin's novel was published in Image's Issue 72, and the journal named A Blessed Snarl among the Top 10 of 2012, describing it as a novel "woven with opposing convictions: Catholicism and Protestantism, murder and innocence, the spirituality of art and of speaking in tongues—a warp and weft that is pulled tight by anger and let loose again by grief. … Martin's fine hand with characterization makes moments of longed-for reunion ring true."
The Artist of the Month tribute to Martin describes him as a writer "possessed of the ability to spin a good yarn—and also to plumb the depths" and calls his first novel "a family saga worthy of the Old Testament."
In addition to A Blessed Snarl, Martin is also the author of This Ramshackle Tabernacle, a collection of short stories. Both volumes, published by Breakwater Books, are available at amazon.com.
Martin earned bachelor's and master's degrees from Redeemer University College and the University of Toronto, respectively, and a doctorate from Memorial University of Newfoundland. In addition to teaching creative writing at Northwestern College, he is also working on his second novel.