Poet to read work at Northwestern
Thursday, November 1, 2012
Widely published poet Paul Dickey will read a selection of his work for Northwestern College's Deep Song Reading Series on Tuesday, Nov. 13, at 7 p.m. The reading will take place in the Te Paske Gallery of the Korver Visual Arts Center. The event is free and open to the public.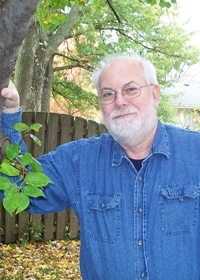 Dickey, a resident of Omaha, is the author of the poetry collection "They Say This is How Death Came into the World," which was nominated for the National Book Award in Poetry. Author Nin Andrews describes it as "seductively inventive, charmingly clever and seriously witty. The pleasures offered by Paul Dickey's quirky and irreverent meditations are utterly irresistible," she says.
Dickey has been writing since the 1970s when his poetry first appeared in journals such as Nimrod, Karamu, Quartet, and Kansas Quarterly. After taking a break to focus on family and a career in data processing, Dickey started to publish again in 2003. Since then, he has published poetry and fiction in about 100 literary journals, including Mid-American Review, Sentence: A Journal of Prose Poetics, Southern Poetry Review, Cider Press Review and Crab Orchard Review. He has also written a chapbook, "What Wisconsin Took."
Recently, Dickey has written several one-act plays and a full-length play, "The Good News According to St. Dude." Today, he teaches philosophy at Metropolitan Community College and is a co-editor of MCC's student literary magazine. He earned a master's degree in the history and philosophy of science from Indiana University and a bachelor's degree from Wichita State University.
The Deep Song Reading Series is hosted by Northwestern's English department for the purpose of allowing students and community members the opportunity to listen to new and emerging authors speak about their works and share some of their experiences in writing.