Northwestern College religion professor publishes book
Wednesday, September 14, 2016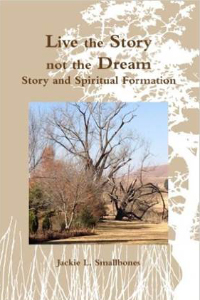 Northwestern College religion professor Dr. Jackie Smallbones has recently published a book, "Live the Story not the Dream: Story and Spiritual Formation." The 244-page paperback is about prayerfully and creatively entering the story of Scripture through its many smaller stories so the reader can learn to live life narrated by God's word, and not by the fads of today's world.
"The story the Bible tells is one of redemption and transformation, a story that leads to real encounters with God in Christ," says Smallbones. "The problem is getting people to read this story, as the Bible is a rather long and sometimes complicated book."
With the help of a good storyteller, Smallbones grew to love the many stories of the Bible as a child. As an adolescent, storytelling and listening abruptly ceased. "As an adolescent, I quickly discovered that maturing Christians must graduate from Bible stories to biblical principles; from Gospels to Epistles; from dramatized storytelling to analytical preaching." In a misguided attempt to mature her faith, she left the stories behind and as a result, struggled to meaningfully read the Bible. "It wasn't until I returned to story, discovering again its power to form and transform, that my spiritual life was refreshed."
In response to her newfound understanding about the power of storytelling, Smallbones introduced a course on narrative and spiritual formation at Northwestern. "Each time I teach the course, I become more excited about the potential of story for intentional spiritual maturity," says Smallbones. "Live the Story, not the Dream" grew out of her experience teaching the course in addition to her personal encounters with story. "It is my desire that people who read my book will discover the same excitement for God's word that I experienced as a child and finally regained in my adult years," says Smallbones.
The book, published Aug. 12, is available for purchase on Lulu.com and Amazon.
Smallbones is a native of South Africa and an ordained minister in the Reformed Church in America. A member of Northwestern's faculty since 1995, Smallbones received the college's Teaching Excellence Award in 1998. She is also the author of "Keeping Company With Jesus: Reflection on Gospel Stories" and a memoir, "Knit Together: Many Colors, One Life."
After earning a bachelor's degree at Washington Bible College in Lanham, Md., Smallbones went on to earn a master's degree from Trinity Evangelical Divinity School in Deerfield, Ill., and a Doctor of Theology degree at the Durban-Westville University in South Africa.