Religion professor contributes to journal
Wednesday, May 6, 2015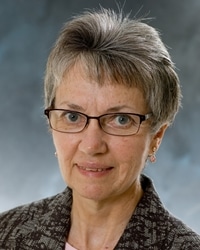 Dr. Jackie Smallbones, professor of religion and Christian education at Northwestern College, has recently published an article in the spring issue of Christian Education Journal.
Smallbones' piece, "Storymakers: A Holistic Approach to Bible Reading and Study," describes a new approach Smallbones created to give readers a way of holistically engaging in Scripture.
"This approach to reading Scripture, which I call 'Storymakers,' is both simple and profound," says Smallbones. "It pays attention to the text in addition to one's own personal story.  Because of its simplicity, participants have little difficulty in learning and practicing it."
Smallbones' approach grew from the research and writing she did during a sabbatical in 2013. "I developed movements of looking at Scripture, especially its stories, and tested it on a group of people of different ages and backgrounds," says Smallbones. "I then refined the approach and used it in a college course on narrative and spiritual formation and was excited about the positive reaction from students."
In the article, Smallbones explains the foundational elements that underpin "Storymakers" and gives descriptions of practical application through its five movements.
The Christian Education Journal is published each spring and fall by Talbot School of Theology in cooperation with the Society of Processors of Christian Education. The journal seeks to strengthen the conception and practice of Christian education in church and faith-based organizations.
A native of South Africa, Smallbones taught at a college and seminary there before joining Northwestern's faculty in 1995. An ordained minister in the Reformed Church of America, Smallbones teaches courses in biblical studies, Christian education and Christian spirituality at Northwestern, where she was awarded the college's Teaching Excellence Award in 1998.
After graduating from Washington Bible College in Lanham, Md., Smallbones earned a master's degree at Trinity Evangelical Divinity School in Deerfield, Ill. She went on to earn a doctorate in theology from Durban-Westville University in South Africa.