Chicago pastor to speak in chapel
Wednesday, October 30, 2013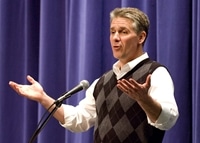 The Rev. Roger Nelson, a 1982 Northwestern College alumnus who is senior pastor at Hope Christian Reformed Church in Oak Forest, Ill., will speak in the college's Christ Chapel on Monday, Nov. 11, at 10:05 a.m. and Tuesday, Nov. 12, at 11:05 a.m. The chapel services are free and open to the public.
A reflective practitioner of ministry in a postmodern culture, Nelson interned in Chicago in 1981 and is still involved with the South Side organization he worked with while there, Roseland Christian Ministries. He has served small inner-city churches and a historic East Coast church. He was also an area director of Young Life in Chicago, as well as a Bible teacher and chaplain for high schools in Chicago and Grand Rapids, Mich. He has served Hope Christian Reformed Church since 2002.
Nelson describes his church as a thriving congregation that is liturgical, with traditional music and a deep commitment to Reformed vision. Hope Christian Reformed draws many people from the Chicago area, including a number of young families.
Nelson is appearing on campus under the auspices of the Ronald R. Nelson Scholars and Artists in Residence Program, which is named after his father, a history professor at Northwestern from 1974 until his death in 1985. The program seeks to inspire students with scholarship that encourages peace and justice.