New Orleans pastor to speak in chapel
Friday, October 25, 2013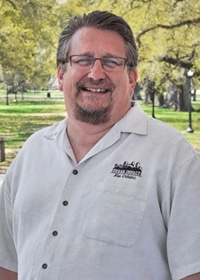 John Gerhardt, executive director of Urban Impact Ministries in New Orleans, will speak in Northwestern College's Christ Chapel on Monday, Nov. 4, at 10:05 a.m. The chapel service is free and open to the public.
Urban Impact seeks to create a safe neighborhood in its low-income area. The ministry has several different programs, including youth Bible studies, recreation outreach, homework help and a leadership academy. Castle Rock Community Church, a part of Urban Impact which Gerhardt serves as pastor, also has ministries that serve men, women, youth and children.
Gerhardt and his wife, Wendy, joined Urban Impact in 1991, just two years after the ministry was founded. The agency has expanded to become a transformational force in its neighborhood and, since Hurricane Katrina, has hosted thousands of volunteers to rebuild the community.
Northwestern has sent 18 teams to serve with Urban Impact on Spring Service Projects since 1995. While working in New Orleans, students help Urban Impact focus on community development. Students are involved in after-school programs, construction projects, and other opportunities to interact with the local residents.