NWC senior published in online magazine
Monday, August 19, 2013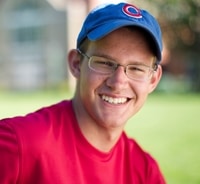 An article written by Northwestern College senior Michael Simmelink has been published on RELEVANTmagazine.com, an online version of the Christian magazine RELEVANT.
The article, entitled "How to Make Missions Trips More Effective," focuses on how short-term missions aim to provide aid in short periods of time and with immediate results, which can be more detrimental than beneficial. In his article, Simmelink expands on how three crucial adjustments could increase the effectiveness of short-term missions on ailing communities.
The article speaks to Simmelink's extensive experience with missions. "I've gone on two to three mission trips a year for the past seven or eight years," says Simmelink. He has traveled to over 20 national and international sites, including Mexico, Brazil and four trips to Haiti. Simmelink has also participated in two Northwestern Spring Service Projects.
Simmelink originally wrote the piece as an assignment for a writing course taught by Dr. Ann Lundberg. "The article I sent into RELEVANT had been critiqued in class to the point of being publication worthy," says Simmelink.  An earlier version of the article was published on Cardboard Magazine, a blog for Christian college students launched by Northwestern under the leadership of English professor Richard Sowienski.
A double major in religion and journalism, with minors in missions and writing/rhetoric, Simmelink serves as sports editor for the Beacon, Northwestern's student newspaper. He is also a discipleship group leader in Colenbrander Hall and a member of the soccer team.
Simmelink recently completed a summer internship with the Sioux County Capital-Democrat in Orange City. After graduation, he hopes to work for a nonprofit that specializes in Christian community development.
Read Simmelink's full article at www.relevantmagazine.com/god/how-make-missions-trips-more-effective.