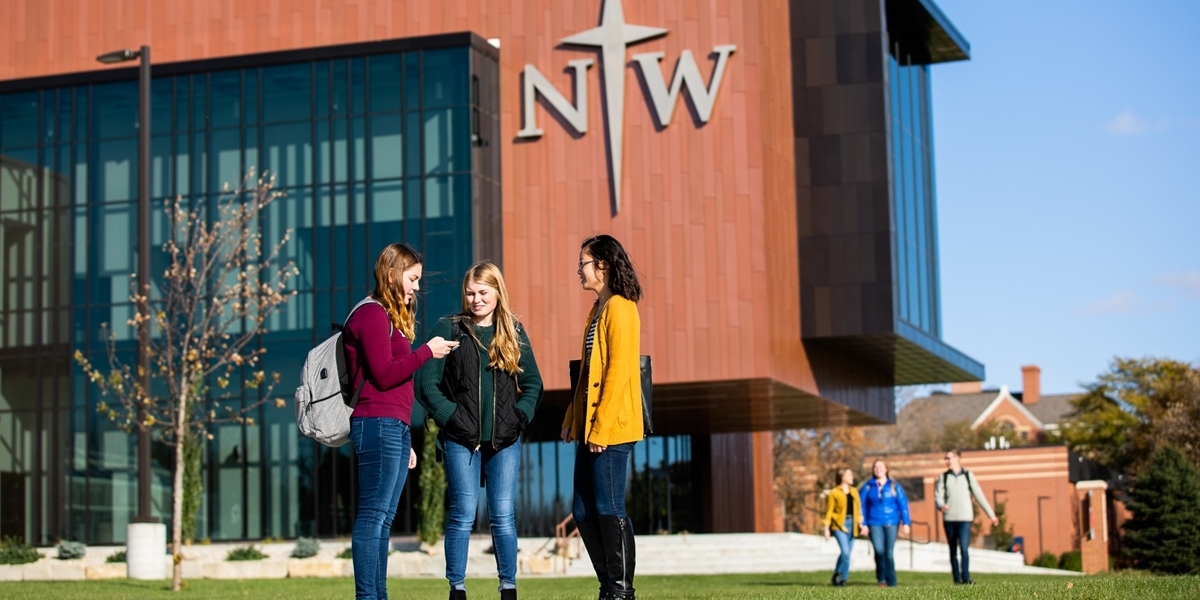 Strategizing for Strength
From its founding in 1882, Northwestern College has responded to the needs of our community for standout Christian higher education that prepares students to reflect God's light in their careers and lives. Responding wisely has often involved strategic decisions to alter course, modify program offerings, or adapt to changes in our market that are beyond our control.
Higher Education Current Realities
We, like numerous peer institutions across the country, face one of those times—the number of prospective undergraduates in our target markets is declining, and college students and those who employ them after graduation are requiring different academic preparation and programs than colleges have provided in the past. In light of these changes, we must respond—and we must do so with courage and faithfulness.
Northwestern is making hard, yet strategic, changes now to address these market realities and ensure our ability to flourish in the future. Unlike many of our peer institutions, Northwestern is proactively making these difficult decisions from a position of strength:
Thanks to our largest freshman class in five years and growing graduate and adult learning programs, Northwestern's total enrollment set a record this past fall with 1,414 students.
We continue to recruit talented scholars to be part of our faculty.
Our facilities are exceptional.
Financially, with our healthy endowment and minimal debt, we are in an enviable position relative to many colleges and universities.
Of course, these strengths do not mean we can ignore the challenges we face or fail to make changes that position Northwestern for long-term sustainability.
Academic Program Prioritization
Over the past 18 months, Northwestern College faculty members and administrators have been engaged in an Academic Program Prioritization (APP) process aimed at ensuring NWC remains as strong and competitive as possible in the coming years. The APP process was initiated in the spring of 2018 as a result of the Northwestern College Strategic Plan, and a faculty-led task force spent last academic year analyzing the quality, productivity, relevance, contribution margin, and opportunity of every academic program Northwestern currently offers. In response to the task force's report—and in consultation with college administrators and the Board of Trustees—President Greg Christy has made the following program closure decisions that will take effect beginning next fall:
A philosophy major will no longer be offered.
The literature and writing/rhetoric majors offered by the English department will no longer be offered. Instead, literature and writing courses will become part of a newly redesigned English/English teaching major.
Seniors pursuing the majors listed above will be unaffected, and accommodations will be made for the fewer than 10 underclassmen affected that will enable them to graduate with their declared majors. In addition to closing the programs noted above, we are also making small adjustments to the number of faculty in certain undergraduate programs to better align with the current number of majors in those programs. These efforts combined will result in a reduction of 11 undergraduate faculty positions (5 of which will occur through retirements). We cannot disclose the names of individuals impacted, but it's important to note none of these terminations were performance-related. We are extremely grateful for these professors' service to Northwestern and are committed to caring for them generously during this transition.
Strategic Program Investment and Growth
Faithful stewardship of Northwestern's resources—including the financial savings we'll realize by making these changes—will enable us to continue exploring and investing in programs that ensure Northwestern flourishes long into the future. We have already taken the following actions designed to enhance key programs and attract new markets of undergraduate and graduate students to NWC:
Four full-time faculty and three staff members have been hired for Northwestern's new Master of Science in Physician Assistant Studies program, which has received accreditation and will begin next May with what we expect to be a full or nearly full cohort.
A faculty member has been hired as clinical coordinator for our new Master of Science in Athletic Training program, also accredited and set to begin in May.
Significant funds have been invested in facilities for the two new on-site graduate programs listed above as we renovate Van Peursem Hall classrooms and laboratories vacated by undergraduate science departments that have relocated to the DeWitt Family Science Center.
A faculty member was added to the business department to accommodate increased enrollment in majors offered by that department.
Significant resources have been committed to the Master of Education program, which now has seven degree tracks and continues to exceed enrollment goals.
Plans are underway for the formation of a new Center for Innovation and Leadership that will provide enhanced opportunities for students to learn as innovators across all academic disciplines and partner with local and regional businesses and organizations to grow through leadership opportunities.
Commitment to mission
Higher education is changing, and we must respond as we have throughout our history—by meeting the needs of our students and preparing them to stand out in their careers and lives. As we make decisions to control costs, align our academic programs with student demand, continue our commitment to the Christian liberal arts, and provide resources to further strengthen our academic quality, our noble mission guides us: Northwestern College is a Christian academic community engaging students in courageous and faithful learning and living that empowers them to follow Christ and pursue God's redeeming work in the world.
If you have any questions about what has been communicated above, please contact President Greg Christy at president@nwciowa.edu or 712-707-7100.
FAQs
Q: Is the college in financial trouble?
A: No. Northwestern administrators budget conservatively and have been carefully managing the college's revenues and expenses in response to demographic changes and declining undergraduate enrollments for several years now. The adjustments detailed above are more significant than those we've been making each year, but they are nonetheless consistent with our commitment to respond wisely to market realities. Northwestern's endowment is strong ($56.7 million at the end of fiscal year 2018–19), and donors contributed $7.8 million to Northwestern last fiscal year. In fact, on the Financial Indicators Tool (FIT), which measures colleges' and universities' financial fitness, Northwestern consistently scores far above national and Midwest medians based on measures such as endowment assets per student, comprehensive debt per student and operating reserve ratio.
Q: Why then are these changes being made?
A: As noted above, our financial and other strengths do not mean we can ignore the challenges we face or fail to make changes that position Northwestern for long-term sustainability. Compared to peer institutions facing similar challenges and having to respond within a context of financial strain, we are grateful to be making these decisions—difficult though they are—from a position of strength and in a manner that is proactive, strategic and careful.
Q: Why can't Northwestern just recruit more students for the programs listed rather than close them?
A: Two reasons: First, data shows that, due to lower birth rates after 2008's Great Recession, the number of traditional college-age students is declining, especially in our primary markets. Predictive modeling shows their numbers will bottom out around 2025. Simply put, there are fewer high school students available for us to recruit. Second, program viability depends on both prospective student and employer demand. Our strong commitment to the liberal arts—manifest in our robust general education curriculum (NWCore)—does not preclude closing select liberal arts majors and reinvesting those funds in academic programs more in demand by today's students and employers.
Q: How does closing programs help Northwestern's enrollment?
A: Enrollment in the three closed programs has been in documented decline. Closing under-enrolled programs frees financial resources for strategic investment in new and growing programs like the college's new Master of Science in Physician Assistant Studies. It also enables us to hire additional faculty in the undergraduate programs with enrollment potential.
Q: Will students in the affected programs be able to finish their degree?
A: Yes. Seniors in the programs that are closing will be unaffected, and accommodations will be made for the fewer than 10 underclassmen affected that will enable them to graduate with their declared majors.
Q: How will this affect incoming students?
A: Literature, philosophy and writing/rhetoric will no longer be among the 80+ programs incoming students can choose to pursue. A redesigned English/English teaching major will still be available, and literary, writing and philosophy course content will still be part of the Northwestern Core (NWCore) curriculum as well as many senior seminars across the disciplines. In addition, the savings we realize by closing programs that are under-enrolled enables Northwestern to invest in new and growing academic programs that are more in demand by students and those who employ them after graduation.
Q: Was it really necessary to eliminate faculty positions?
A: The closure of three academic programs naturally led to the elimination of some faculty positions. In addition, among the remaining programs, the number of faculty in some departments has gotten out of alignment with the decreased numbers of majors. In an effort to wisely steward our resources—and to free funds for reinvestment in areas of program opportunity—it was necessary to eliminate some positions in programs we're continuing to offer, as well as eliminate positions related to program closings.
Q: What faculty were affected, and how is Northwestern caring for them?
A: We are not disclosing the identities of professors whose positions are being eliminated. However, it's important to note that none of the terminations were performance-related. We are extremely grateful for these professors' service to Northwestern and are committed to caring for them generously during this transition.
Q: Is Northwestern still committed to the liberal arts?
A: Unequivocally. We continue to believe the Christian liberal arts is the best preparation for equipping students to pursue their callings and careers. That's why Northwestern students graduate with two majors, really: their declared major (biology, for example) and a "major" in the Northwestern Core (general education), which is rich in liberal arts learning.
Q: Who can I talk to about my concerns or ideas?
A: You can contact President Greg Christy, at president@nwciowa.edu or 712-707-7100, or any member of the Northwestern College President's Cabinet.