Northwestern named among most adoption-friendly workplaces
Wednesday, November 8, 2023
For the 11th year, Northwestern College has been named to the Best Adoption-Friendly Workplaces list compiled by the Dave Thomas Foundation for Adoption. Northwestern was recognized as an adoption advocate and ranked fifth in the education industry for 2023—behind only Yale (first), Baylor University (second), Emory University (third) and the University of Notre Dame (fourth).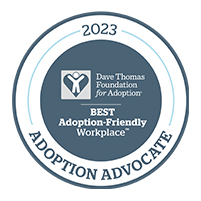 "We are so happy that Northwestern College has again been recognized as an adoption-friendly workplace," says Mindy Stichka, Northwestern's associate director of human resources. "This past year, we extended our policy benefits to any adoption process, including the adoption of adults. Being able to provide financial assistance and time-off benefits to families who adopt at Northwestern is truly a reflection of our support of families—and is also aligned with our mission to pursue God's redeeming work in the world."
After learning that adult adoptions were legal in Iowa last year, Dr. Erica Vonk, assistant professor of business, advocated for the extension of policy benefits to adults so her family could receive support in adopting a former foster daughter.
"When we asked our foster daughter if we could adopt her into our family, she was overwhelmed with emotion," Vonk says. "Even in her early 30s, she still wanted that sense of belonging that an adoption would provide. Northwestern's financial support covered all our legal fees, and the college's policy also acknowledges that we are all adopted in Christ, which is very meaningful to me as an adoptive parent."
Northwestern offers financial assistance of up to $2,000 per adoptee to faculty and staff, with an additional reimbursement of up to $1,000 for the adoption of someone with special needs. The funds can be used for home studies, agency and placement fees, legal expenses and court costs, medical expenses, and transportation and lodging. Adoptive parents can also take advantage of Northwestern's parental leave benefit, which offers six weeks of paid leave to full-time and three-quarter time employees after 12 months of employment. Additionally, Northwestern employees who adopt are eligible for up to seven days paid leave beyond the six-week parental leave benefit.
Rankings for the Best Adoption-Friendly Workplaces List are determined by surveying employer benefits across the United States, scoring participants on the amount of financial reimbursement and paid leave given to families who adopt, as well as the percentage of employees eligible for those benefits. In addition to ranking the top 100, the foundation also ranked employers by size, industry, paid leave benefits and impact.
More than 140,000 children in the U.S. foster care system are waiting to be adopted. The release of the annual Best Adoption-Friendly Workplaces List helps the Dave Thomas Foundation increase foster care adoption awareness while celebrating those organizations that support adoptive families. Find more information at davethomasfoundation.org.