Art exhibit at Northwestern College to display paintings by Alton artist
Thursday, October 5, 2023
Northwestern College will display artwork by Alton, Iowa, artist Duha Lee in its Te Paske Art Gallery Oct. 16 through Nov. 30.
"Exploring Creativity: Design Through Illustration" will include digital paintings done by Lee—including one created for a children's book titled "Sleepy Baby Samurai and the Magic Painting." A public reception with the artist is scheduled for Thursday, Oct. 26, at 4:30 p.m.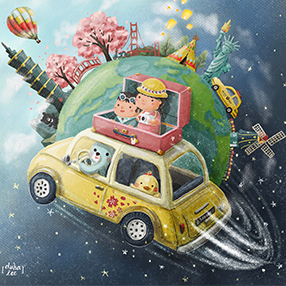 Several of Lee's artworks center around Taiwan's three major traditional festivals: the Lunar New Year, the Dragon Boat Festival, and the Mid-Autumn Festival. "Growing up in Taiwan, I was deeply influenced by East Asian and Japanese culture," she says. "Later relocating from Taiwan to New Jersey and then Iowa, I experienced huge cultural shocks and changes. Through painting, I've documented this journey and aimed to introduce different cultures to diverse audiences."
Since becoming a mother, Lee often incorporates children in her artwork. Some of her paintings were created as educational resources in which she transforms Taiwan's phonetic symbols into tangible objects to help her kids learn Mandarin.
Lee comes from a family of artists and studied digital painting, advertising and graphic design in college. Since 2008, she has worked as a graphic designer, illustrator and graphic user interface designer for software companies and publishers—most recently viWave Co. Ltd. and Christian Renewal Ministries. She also serves as a board member for the Orange City Arts Council.
Northwestern's Te Paske Gallery is located in the Korver Visual Arts Center, on Highway 10 at 214 8th Street SW in Orange City. Gallery hours are 7 a.m. to 7 p.m. Mondays through Fridays and 7 a.m. to 3 p.m. on Saturdays.