NWC professor edits book on servant-leadership
Tuesday, November 1, 2022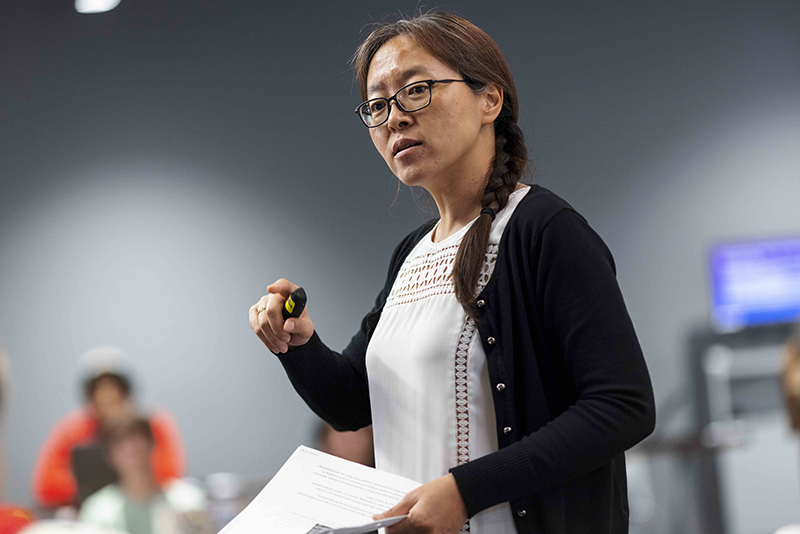 Dr. Jiying (Jenny) Song, assistant professor of business and economics at Northwestern College, served as first editor of a newly published anthology, "Servant-Leadership, Feminism, and Gender Well-Being: How Leaders Transcend Global Inequities through Hope, Unity, and Love."
Published by SUNY Press, the volume includes chapters written by 25 authors from around the world. Many of the authors, like Song, are alumni of Gonzaga University's School of Leadership Studies or on its advisory board. The new book focuses on leadership problems related to worldwide gender dualism and gender stereotyping. It offers evidence of successful servant-leadership where such gender boundaries have been crossed and where gendered traits and behaviors have been integrated.
"My greatest satisfaction from working on this project is its focus on bringing the marginalized to the center, without driving away others," says Song. "Anyone can be a servant-leader, regardless of gender, race, ethnicity, sexual orientation, disability, class or any other form of categorization."
Among those working alongside Song as editors of the anthology were Dr. Shann Ferch, professor of leadership studies at Gonzaga, and Larry Spears, servant-leadership scholar at Gonzaga and president of the Spears Center for Servant-Leadership. Song also works with Ferch and Spears as associate editor for the International Journal of Servant-Leadership. All chapters in the new anthology first appeared there.
In addition to serving as first editor, Song co-wrote the book's preface with Ferch and authored the fourth chapter, "Servant First or Survival First? How Servant-Leaders Lead During COVID-19."
Song says this book demonstrates integrative ways of leading, living and loving in the midst of crises and challenges. "Feminist ways of knowing and honoring both feminine and masculine giftedness deepen the holistic foundation of servant-leadership," she says, "and drive the paradigm shift from hierarchy-driven, rules-based and authoritative models to values-driven, follower-oriented and participative models."
"Servant-Leadership, Feminism, and Gender Well-Being: How Leaders Transcend Global Inequities through Hope, Unity, and Love" is available for purchase from SUNY Press and Amazon.
Song joined Northwestern's faculty in 2019 to teach management and marketing courses after having taught at George Fox University. Northwestern's 2022 recipient of the Faculty Excellence in Faith and Learning Award, Song was previously the first editor of "Servant-Leadership and Forgiveness: How Leaders Help Heal the Heart of the World" and the second editor for "Global Servant-Leadership: Wisdom, Love and Legitimate Power in the Age of Chaos." Certified in project management, she has extensive industry experience as a senior engineer and operation director in logistics and supply chain management for Dalian Port Logistics Technology Company.  
---
Northwestern College's business program will prepare you for more than bottom-line success, as its Christ-centered focus enables you to live out your Christian values in the workplace. With significant hands-on experience and mentorship by faculty experts, Northwestern students stand out on the CPA exam and the international Business Strategy Game and are in high demand by employers.