Northwestern College to honor five former athletes
Thursday, September 15, 2022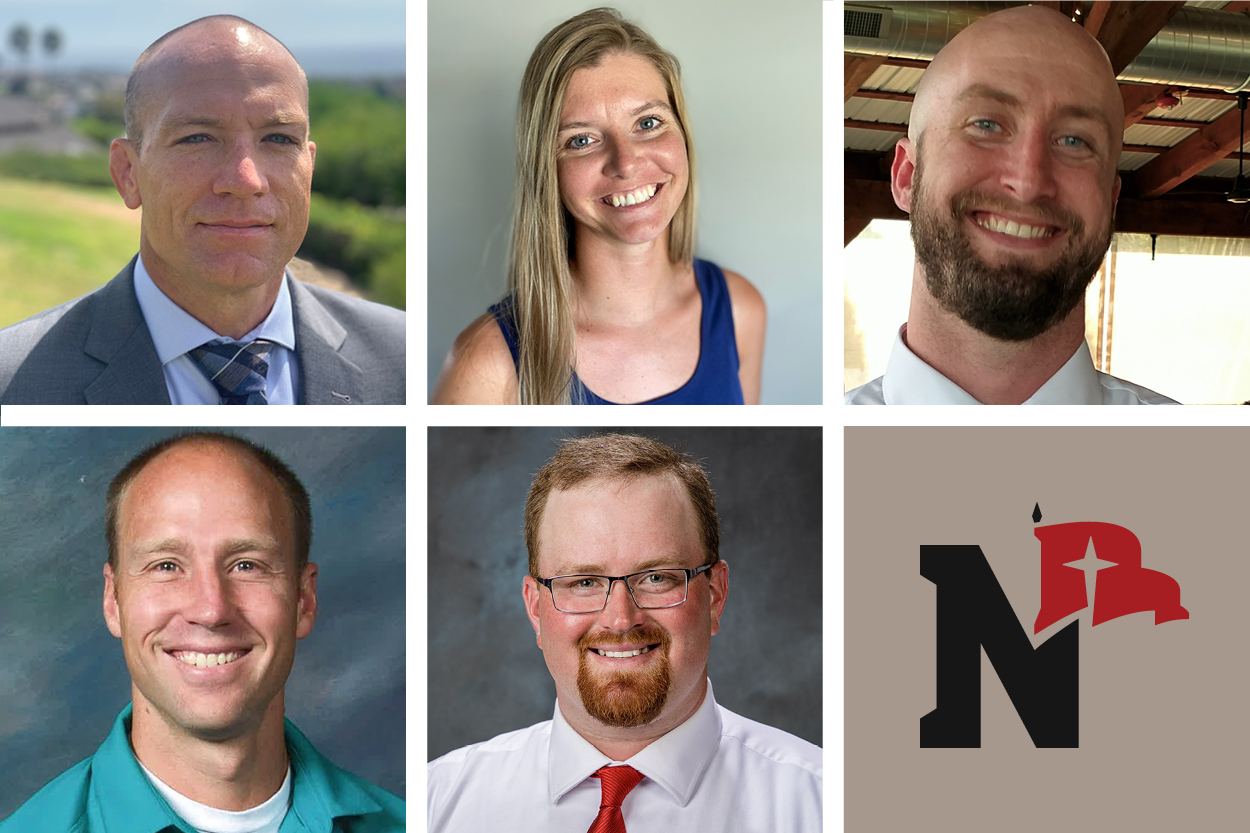 Three Northwestern College graduates will be inducted into the school's Athletic Hall of Fame on Saturday, Oct. 1. The honorees, along with the Raider Athletics Association Coach of the Year and Barnabas Award recipient, will be recognized at a luncheon at 11 a.m. in the Rowenhorst Student Center Four-Court Area and at halftime of the football game against Mt. Marty, which starts at 1:30 p.m.
Tom Eaton of San Clemente, California; Kaitlin Floerchinger of Omaha; and Matt Huseman of Sargent, Nebraska, will bring the number of Hall of Famers to 126. Wade Vander Maten of Rock Valley will receive the Coach of the Year honor. The Barnabas Award—which recognizes Raiders who encouraged others to strive for their best performance athletically, academically and personally, and who used their sport as a way to bring others to a knowledge of Jesus Christ—will be bestowed upon Levi Letsche of Orange City.
Eaton graduated from Northwestern in 2009 and earned NAIA All-American honors as a senior for the Red Raider wrestling team, placing fourth in the national meet and being named the outstanding wrestler at the Northern Qualifier Tournament. He was an All-American honorable mention in 2008. His 100 takedowns in 2007–08 ranks third in Northwestern's records, while he is tied for fourth for wins in a season with 36 that year. Eaton, a 1997 graduate of Cedar Rapids Jefferson High School who transferred to Northwestern after two years at Santa Ana College, is a firefighter trainee and American Sign Language interpreter.
Floerchinger, a 2015 alumna, was an NAIA first-team All-American in volleyball in her junior and senior years, earning GPAC and Region Player of the Year honors. As a sophomore, she received NAIA and AVCA All-American honorable mention recognition. The setter and outside hitter is second in the Northwestern record books in career service aces with 241; eighth in career kills with 1,429; and ninth in season aces with 83 in 2013. She also lettered for two years in indoor track, competing in the long jump. A 2014 NAIA Scholar-Athlete, Floerchinger is the health care marketing coordinator for Boys Town. She graduated from Treynor High School in 2011.
Huseman graduated from Northwestern in 2014 and earned All-American honors seven times in track and field. The 2012 NAIA indoor champion in the high jump, he also placed third in outdoor nationals and fifth indoors in 2011; fifth outdoors in 2012; fourth indoors in 2013; and fourth in both the indoor and outdoor meets in 2014. He also won seven conference titles and set Northwestern's indoor record with his 6-11.75 jump in 2012. Huseman was a CoSIDA Academic All-American his last three years and a 2014 NAIA Scholar-Athlete. A 2009 graduate of East Sac County High School, he serves as PK-12 principal at Anselmo-Merna (Nebraska) Public School.
Vander Maten, who graduated from Northwestern in 2008, is a fourth grade teacher in the Rock Valley Community School District and the head high school boys basketball coach. He led the Rockets to the Class 2A state championship and a 22-5 record in 2022. Vander Maten, whose Rock Valley teams have compiled a 166-73 record in 10 years, graduated from Boyden-Hull High School in 2004.
Letsche graduated from Northwestern in 2017 and was a four-year starting center on the football team. He earned all-Great Plains Athletic Conference honors his last two years and honorable mention recognition as a sophomore. A 2013 graduate of Marcus-Meriden-Cleghorn School, he teaches math at Sheldon High School and is an assistant coach for the Red Raiders' offensive line. Letsche earned a master's degree in education from Northwestern in 2020.