Five to be honored as distinguished Northwestern College alumni
Wednesday, September 14, 2022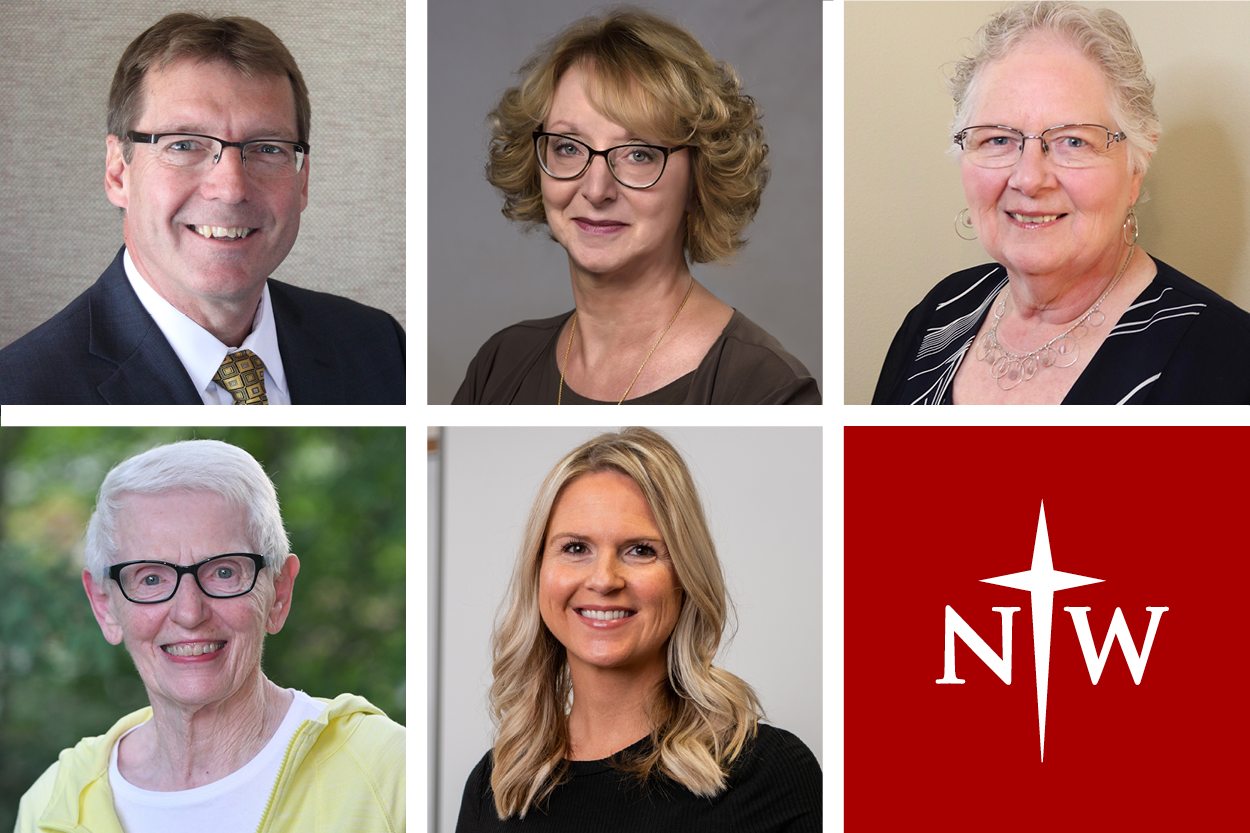 Northwestern College will present five of its alumni with awards recognizing their accomplishments and service during Raider Nation Celebration, the college's Homecoming and Family Weekend. The recipients will be honored during a banquet Saturday evening, Oct. 1.
Doug Boone of Sioux Center and Dr. Kristine Legters of Erie, Pennsylvania, will receive the Distinguished Professional Achievement Award; Kathy (Bonnecroy) Meendering of Orange City, the Distinguished Service to Northwestern Award; Joyce (Beukelman) Wrage of Brookings, South Dakota, the Distinguished Service to Humankind Award; and Alison (Sadler) Ter Horst of Sioux Falls, South Dakota, the Standout Young Alum Award.
Boone is the executive vice president for strategic initiatives at Premier Communications, a telecommunications services provider. He joined the company after graduating from Northwestern in 1982, working his way up from assistant manager to chief executive officer to his present role. Boone also serves as director of the Iowa-owned Aureon Fiber Optic Network; was past president and director of NTCA, the Rural Broadband Association; and served as director of the Iowa Communications Alliance. In 2022 he was appointed by Iowa's governor to the Iowa Economic Development Authority Board.
Legters serves as associate dean of the School of Rehabilitative Services at Gannon University in Erie. She began working as a physical therapist in 1983, the year after she graduated from NWC, and has taught physical therapy full time since 1994. She is active in the American Physical Therapy Association and its Academy of Neurologic Physical Therapy, as well as in the American Board of Physical Therapy Specialties. She earned a master's degree in health care administration from Gannon and a doctorate in neurologic physical therapy from Rocky Mountain University of Health Professions.
Meendering, a 1973 graduate, worked as the cashier for Northwestern's food service provider for nine years and was known for greeting every student who came through the cafeteria line by name. Thanks to her, the cafeteria was a place to not only get a hot meal, but also a warm hug. After a football player confessed his homesickness to her, she embraced him before every meal. Meendering also regularly served up encouragement to campus ministry groups, residence hall wings and Red Raider teams in the form of home-baked cookies and treats. She and her husband, also a Northwestern alum, have three daughters who graduated from NWC.
Wrage, a 1957 graduate, spent 30 years as the children's librarian for the Brookings Public Library. She helped write a statewide summer reading program for South Dakota's centennial and developed the state's annual children's reading awards. She was also involved in establishing a Brookings after-school program and served on its board for nearly 20 years. Wrage developed children's activities for the Center for Hope in Sioux Falls, chaired the Salvation Army's Brookings unit, and was involved in ministries, organizations and events that included Project Joy, Share the Warmth, Loads of Faith, My Neighbor, United Way and the Brookings Foundation Board. She is active in Faith Reformed Church, where she was an elder and director of children's education.
Ter Horst is an award-winning Advanced Placement psychology teacher at Washington High School in Sioux Falls. She was a finalist for Sioux Falls Teacher of the Year in 2015, and in 2019, received the Milken Educator Award, a mid-career recognition that comes with an unrestricted prize of $25,000. She was one of just 40 honorees across the nation and the only winner from South Dakota that year. In addition to a bachelor's degree in psychology, which Ter Horst earned from Northwestern in 2005, she has a master's degree in educational leadership from the University of Sioux Falls.