2022 Northwestern graduate wins second place in national theatre competition
Thursday, May 26, 2022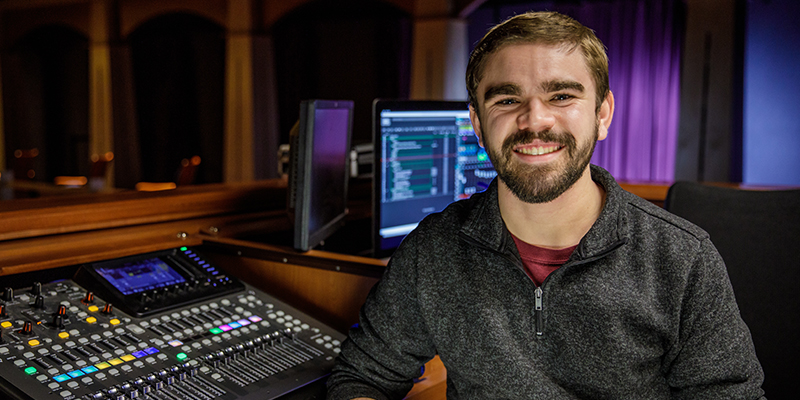 Recent Northwestern College graduate Wyatt Waage, a theatre major from Vermillion, South Dakota, placed second nationally for sound design at the Kennedy Center American College Theater Festival (KCACTF) competition on May 21.
Waage was honored for his work on Northwestern's production of "Eurydice," a modern take on the Greek myth involving the musician Orpheus, who attempts to rescue his wife from the Underworld.
Waage won runner-up honors while competing with graduate theatre students getting their Master of Fine Arts degrees in sound design. He also won a full summer fellowship to work as a sound designer for the Eugene O'Neill Theater Center in Waterford, Connecticut, which is described as the launchpad of American theatre.
"Wyatt is a wonderful and talented young theatre artist," says Dr. Robert Hubbard, professor of theatre at Northwestern. "This national award testifies to this fact. His paid summer internship, however, is perhaps even a bigger honor. The Eugene O'Neill Theater Center is one of the most prestigious new play development workshops in existence. This summer, he will be working alongside some of the most respected and admired theatre makers in the world."
"Eurydice" was produced in the spring of 2021, when Waage was a junior at Northwestern. As the sound designer for the show, he created an aural experience for the audience that supported the story and the vision of the playwright and director. The decision to stage the play with alley seating, which placed the action between two sections of the audience, produced special challenges for the production's technical designers.
"We played a greater role in showing where the action was taking place," Waage explains. "When the characters were in the realm of the living, sounds were normal, with minimal post-production editing. When they entered the Underworld, the sounds were heavily warped and altered with post-production editing, creating an eerie world with droning, metallic scraping and electrical noises."
---
Regarded as one of the best Christian college theatre programs in the country, Northwestern's theatre department features a collaborative, excellence-oriented environment committed to helping students develop their creative gifts for service in God's kingdom. Study with Northwestern's award-winning faculty in the outstanding facilities of DeWitt Theatre Arts Center.