Education and English professor receives NWC Teaching Excellence Award
Saturday, May 14, 2022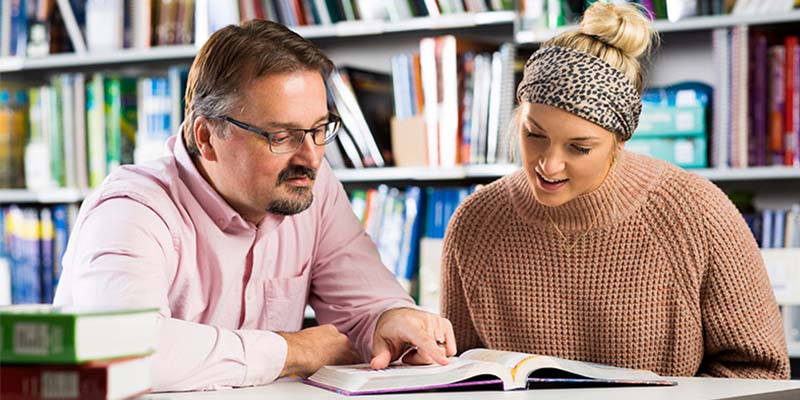 Dr. Chris Nonhof, assistant professor of education and English at Northwestern College, has been named the 2022 recipient of the Northwestern Teaching Excellence Award. He was honored during the college's commencement ceremony on May 14.
The award is administered by a selection committee made up of Student Government Association members and Honors Program students. The committee chose Dr. Fan Fei, assistant professor of business; Dr. Scott Monsma, professor of sociology; and Dr. Wayne Westenberg, associate professor of mathematics education, as finalists along with Nonhof.
The major factor used in selecting the award winner is evidence of strong teaching ability. The committee looks at faculty vitae, service reports and course evaluations, in addition to the comments of nominators.
Nonhof joined Northwestern's faculty in 2015 after 16 years of teaching English and theatre at private and public high schools in Florida and Wisconsin. He holds Northwestern's James and Margaret Blekkink Endowed Education Professorship and teaches graduate and undergraduate courses in methods, education research methodology, and literature, as well as First-Year Seminar. His areas of research include language and identity, diversity in education, and culturally responsive pedagogy.
Students describe Nonhof as an outstanding teacher. "Dr. Nonhof creates an environment that is safe and welcoming to everyone," wrote one nominator. "He makes class enjoyable yet educational, with open conversations guided by thoughtful questions."
"Dr. Nonhof goes above and beyond to help students learn in his classroom while also making them feel valued at an individual level," another student said. "He is honest, insightful and realistic about the challenges of being a teacher. He is never too busy to answer a question."
A student added, "He takes an interest in each student's life, education and success. He is practical in his teachings but makes it fun and interesting with his humor. He is amazing. I knew I was able to reach out to him with anything I was dealing with."
Nonhof's caring approach was cited by several nominators. "He is so much more than a professor," wrote one student. "He's a friend, a spiritual father, a cheerleader and more. He's so intentional about showing how much he cares for his students. He's sacrificed time out of his schedule any time I've needed it, whether it be 15 minutes or a few hours. He cares for his students' academic, mental and spiritual well-being. He doesn't just speak; he listens, too."
"He is servant-hearted and has such a way of connecting with his students," another student added. "He invests in the lives of the students in and out of the classroom and encourages them spiritually."
Nonhof earned a doctorate in language and literacy and a Master of Education degree in instructional technology, both from Cardinal Stritch University.
---
Accredited by the Iowa Department of Education, Northwestern's education program meets high standards for coursework and field experiences, and our performance-based outcomes ensure you have every opportunity to become an effective teacher. Education faculty and students center their learning on a "teacher as servant" motto, preparing future educators to see and teach every student as a precious image-bearer of God.