Northwestern music department presents Showcase Concert Oct. 2
Wednesday, September 15, 2021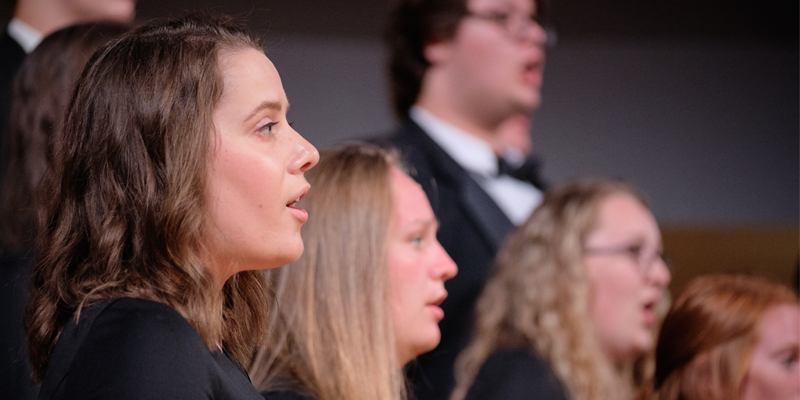 Northwestern College will present the Music Department Showcase Concert on Saturday, Oct. 2, at 7:30 p.m. in Christ Chapel. The event is free and open to the public, with a private dessert reception for family members and Music Patrons to follow.
The concert will consist of music from Northwestern's Orchestra, Jazz Band, Symphonic Band, A cappella Choir, Women's Choir and Heritage Singers. The ensembles will perform a variety of pieces, including Aaron Copland's "Hoe-Down" performed by the Orchestra, Eriks Esenvalds' arrangement of "Amazing Grace" performed by the A cappella Choir, and a sampling of Johannes Brahms' "Liebeslieder Waltzer" performed by the Heritage Singers. Competitive music scholarship winners will also be featured.
"This concert gives audience members a wonderful snapshot of our ensemble and individual talents," says Dr. Thomas Holm, music department chair. "After experiencing last year's concert under the confines of face masks and social distancing protocol, we are looking forward to a return to normal this year."
Later this semester, the music department will present a Symphonic Band concert on Nov. 5; a concert featuring the Heritage Singers and Jazz Band on Nov. 12; and Christmas Vespers on Dec. 4 and 5. All events—to be held in Christ Chapel—are free and open to the public. Concert updates will be available on the Northwestern College website and social media platforms.
For more information, contact Nora Verburg at 712-707-7062 or nverburg@nwciowa.edu.
---
Northwestern's music department has a tradition of dynamic performances, outstanding faculty and standout educational experiences in an environment committed to glorifying God. Students can audition for one or more of 10 ensembles, having the opportunity to tour around the world and perform in the award-winning Christ Chapel.