Northwestern concert to feature world-premiere performance
Thursday, April 15, 2021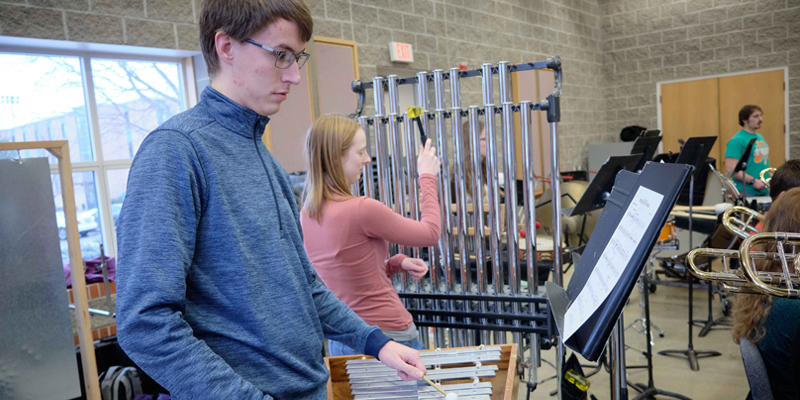 The world-premiere performance of a piece for percussion ensemble and mixed choir will be one of the highlights of a Northwestern College concert on Friday, April 30, at 7:30 p.m. in Christ Chapel. Northwestern's Percussion Ensemble, Heritage Singers chamber choir and Jazz Band will perform. The event is free and open to the public.
The Percussion Ensemble and Heritage Singers will present the premiere of "An Improvisation for Angular Momentum," composed by Dan Sailer, who directs the percussionists. The piece is based on an excerpt of a poem by A.R. Ammons that describes how "walking is like the imagination." The Percussion Ensemble will also present "The Graceful Ghost Rag," by William Bolcom and arranged by Terry Smith, and "Enter into Jerusalem," a Caribbean hymn featuring singers from the Women's Choir and Brandon Glasgow on steel pan. 
The Heritage Singers, under the direction of Dr. Thomas Holm, will perform a set of four quartets by Johannes Brahms, accompanied by Janelle Phinney. The set opens with "O Schöne Nacht" (O Beautiful Night), followed by "Spätherbst" (Late Autumn), "Abendlied" (Evening Song) and "Warum" (Why"). 
Senior trombone player Joel Van Peursem will be featured on a couple of Jazz Band tunes, including George and Ira Gershwin's "I Got Rhythm." The Stevie Wonder hit "Sir Duke" will feature Ashley Van Ravenswaay on tenor saxophone. Chuck Mangione's "Feels So Good" will feature Nathan Tornow on trumpet. The ensemble, directed by Dr. Angela Holt, will also perform samba-style "Blue Bossa," "Spanish Fire!" and "Barnburner." Other soloists will include Luke Haverdink on trombone, Brandon Glasgow on drums, and saxophonists Katelyn Ten Pas and Martha Stein. 
To prioritize the safety of musicians and audience members, masks will be required for the event. Physical distancing will be encouraged, with families seated together in groups no larger than three persons.
---
Northwestern's music department has a tradition of dynamic performances, outstanding faculty and standout educational experiences in an environment committed to glorifying God. Students can audition for one or more of 10 ensembles, having the opportunity to tour around the world and perform in the award-winning Christ Chapel.