Northwestern mourns the death of Cornie Wassink
Friday, November 13, 2020
Cornie Wassink, Northwestern College's director of planned giving, died Nov. 12 at the University of Minnesota Fairview Hospital in Minneapolis. He had been struggling with cancer earlier this year and more recently suffered from heart and COVID-19 complications.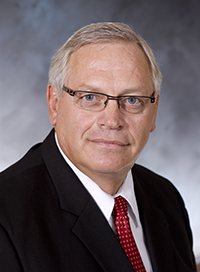 A member of Northwestern's staff for 43 years, Wassink served as the college's first alumni director and spent time with countless donors over the years, particularly in the area of establishing endowed scholarships. "We are incredibly sad that this giant of a man, friend and laborer for Northwestern is gone," says Jay Wielenga, vice president for advancement. "Cornie was extremely knowledgeable in estate planning law and helped many of our donors make plans for gifts through their estates. His institutional memory was incredibly valuable; he knew generations of alumni, parents and friends. We know Cornie embraced the promises of heaven and has no more sorrow or pain."
Wassink, a chartered life underwriter, was a board member of Leave a Legacy Iowa and past president of the Planned Giving Council of Siouxland. He had served as District 6 chair of the Council for Advancement and Support of Education and received its 2004 Distinguished Service Award.
A 1973 Northwestern College graduate, he was an All-American offensive lineman who was a charter member of the Northwestern Athletic Hall of Fame. While still in college, he began officiating track and field. Over the years, he officiated eight sports and co-founded the Iowa Association of Track Officials. He was inducted into the Iowa Track Officials Hall of Fame in 2009 and the Iowa High School Athletic Association Officials Hall of Fame in 2008. In 2017, following his 47th and final year as a high school football official, he was named Iowa's Football Official of the Year by the National Federation of State High School Associations. He also was named the state high school cross country and track official of the year several times.
He is survived by his wife, Deb, who retired from Northwestern's business office in 2019, as well as sons Matt and Ryan and their families.
Memorial gifts can be sent to Northwestern for the Wassink Track and Field Scholarship. Funeral arrangements are being handled by Oolman Funeral Home in Orange City.