Northwestern Colleges recognizes two with Inspirational Service Awards
Thursday, July 16, 2020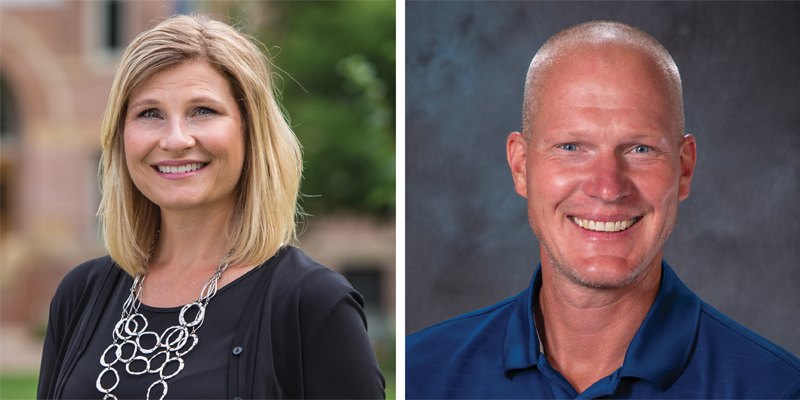 Dr. Rebecca Hoey and Dan Lassen are the recipients of Northwestern College's 2020 Inspirational Service Awards. Hoey was chosen as the faculty recipient, while Lassen received the staff award during the college's Celebration Banquet on July 16.
The awards recognize employees who go beyond excellence in their performance, have demonstrated a selfless commitment to service, and whose dedication to Christ is apparent in their daily work and interactions. A selection committee chose the winners from among candidates nominated by employees.
Hoey, dean of the Graduate School and Adult Learning, was hired in 2011 as director of online learning. She led the development of Northwestern's online Master of Education program, which began in 2015. She also oversees the college's new master's degree programs in physician assistant studies and athletic training along with graduate certificates, degree-completion programs in nursing and early childhood education, and continuing education opportunities.
"She seems to be an obvious choice given the incredible work she put in to help our campus switch to completely online courses this spring," wrote Dr. Laird Edman, professor of psychology, in a letter of nomination. "The expertise, calm and grace she expressed in this stressful time, along with the servant-hearted help and encouraging competence, were a boon. That our transition worked as well as it did is surely in great part due to Dr. Hoey and her tireless work."
Dr. Scott Monsma, professor of sociology, concurs. "She has been consistently collaborating with faculty since she came—to help us build skills for online teaching and for supporting face-to-face teaching with [our learning management system]. I highly doubt we could have done half as well in the spring when we made the transition if not for the foundation she built—and then her mentoring, assisting and spending countless hours working with faculty to help them make it." 
Adjunct instructor Dr. Kenneth Hayes says Hoey approaches her position with humility. "Her interactions with me have been positive, encouraging and supportive of the work I do. Her greatest desire is to see that all Northwestern students are experiencing a quality education that reflects Jesus. Her words encourage people to be their best selves and, in turn, challenge those around her to deepen their faith. Her faith is lived out through her actions and words of support, affirmation and encouragement."
Lassen, associate director of administrative systems, joined the computing services department in 2000 before he graduated from Northwestern. Janette Reuter, comptroller, says his time and talents are in high demand.
"He is key to troubleshooting software problems, developing programming for new processes, and writing new reports. Dan listens to everyone's concerns and is able to identify opportunities for improved customer service and efficiencies. He thinks outside the box and comes up with solutions we can't come up with on our own. Dan is always willing to listen and brainstorm, even during his busiest times. Dan often has to change his schedule to meet the demands of his job, and he does this willingly. His faithful efforts keep all of our administrative offices functioning at our best," says Reuter.
Bev VanDe Griend, advancement financial services coordinator, describes Lassen as a dedicated employee who consistently goes above and beyond in how he serves his colleagues. "He is always patient and willing to help us run detailed reports and mailing lists. There were times this spring when we were all working from home, and he was answering my emails late into the evening. After a helpdesk request, he always follows up to make sure we have the information we need to get the job done correctly. I could not do my job without his help, knowledge and patience."
Aletha Beeson, event and stewardship coordinator, says Lassen's skills, attitude and willingness to help make him a worthy recipient of the Staff Inspirational Service Award. "He provides exceptional customer service. We send a lot of helpdesk calls to him. Some requests are very detailed and require considerable time to program and produce the results we need. Dan is very patient as we have to tweak the requests, adjust the criteria and clarify the results we're looking for."