Northwestern professor awarded college's Endowed Research Fellowship
Thursday, May 21, 2020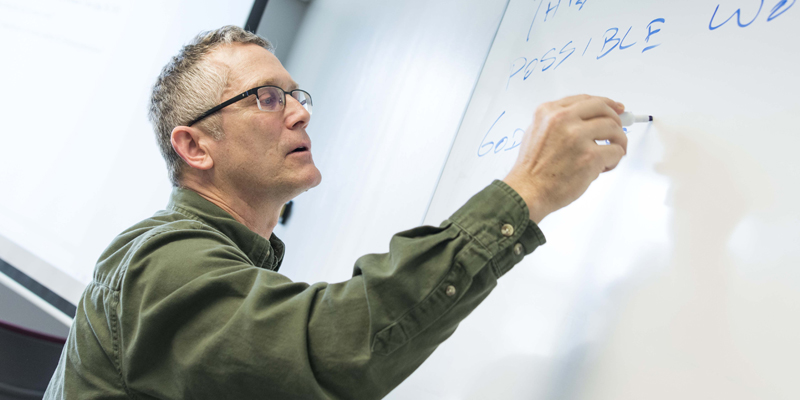 Northwestern College is awarding its annual Endowed Research Fellowship for 2020 to Dr. Michael Kugler, professor of history.
The Endowed Research Fellowship funds substantive summer research that contributes meaningfully to the faculty member's discipline. It is provided through the generosity of an anonymous donor and may be used for stipend, travel, equipment, books, supplies and student assistants.
For years, Kugler searched for readings to encourage his students to think Christianly about historical scholarship. Not finding anything suited to that audience, he decided to write that book himself. His $8,500 Endowed Research Fellowship will support his writing project.
Kugler's book will draw upon literature, art, philosophical theology and popular culture. It will combine biblical exegesis, theological reflection and a discussion of contemporary historical reflection. He plans to spend a week conducting research at the University of Chicago's Regenstein Library. He also intends to meet and discuss his manuscript with Dr. Keith Starkenburg, one of Kugler's former students who is now a Karl Barth scholar and theologian at Trinity Christian College in Chicago.
A member of Northwestern's faculty since 1994, Kugler was one of 25 professors from around the world selected last year to participate in a summer seminar at Oxford University in England. The seminar was hosted by Scholarship and Christianity in Oxford and focused on bridging the two cultures of science and the humanities.
Kugler is a member of the Conference on Faith and History and a recipient of Northwestern's Teaching Excellence Award. He has a master's degree in history from Western Washington University and a doctorate in history from the University of Chicago.
---
As a history student at Northwestern, you'll learn about people: where they've been, what they've done, how they think, and who they've influenced. You'll study with Northwestern's highly-accomplished history faculty, all of whom hold doctorate degrees. They're active scholars who have given presentations around the globe, and they're eager to share their knowledge with you.