Northwestern faculty awarded grants for summer scholarship
Thursday, April 23, 2020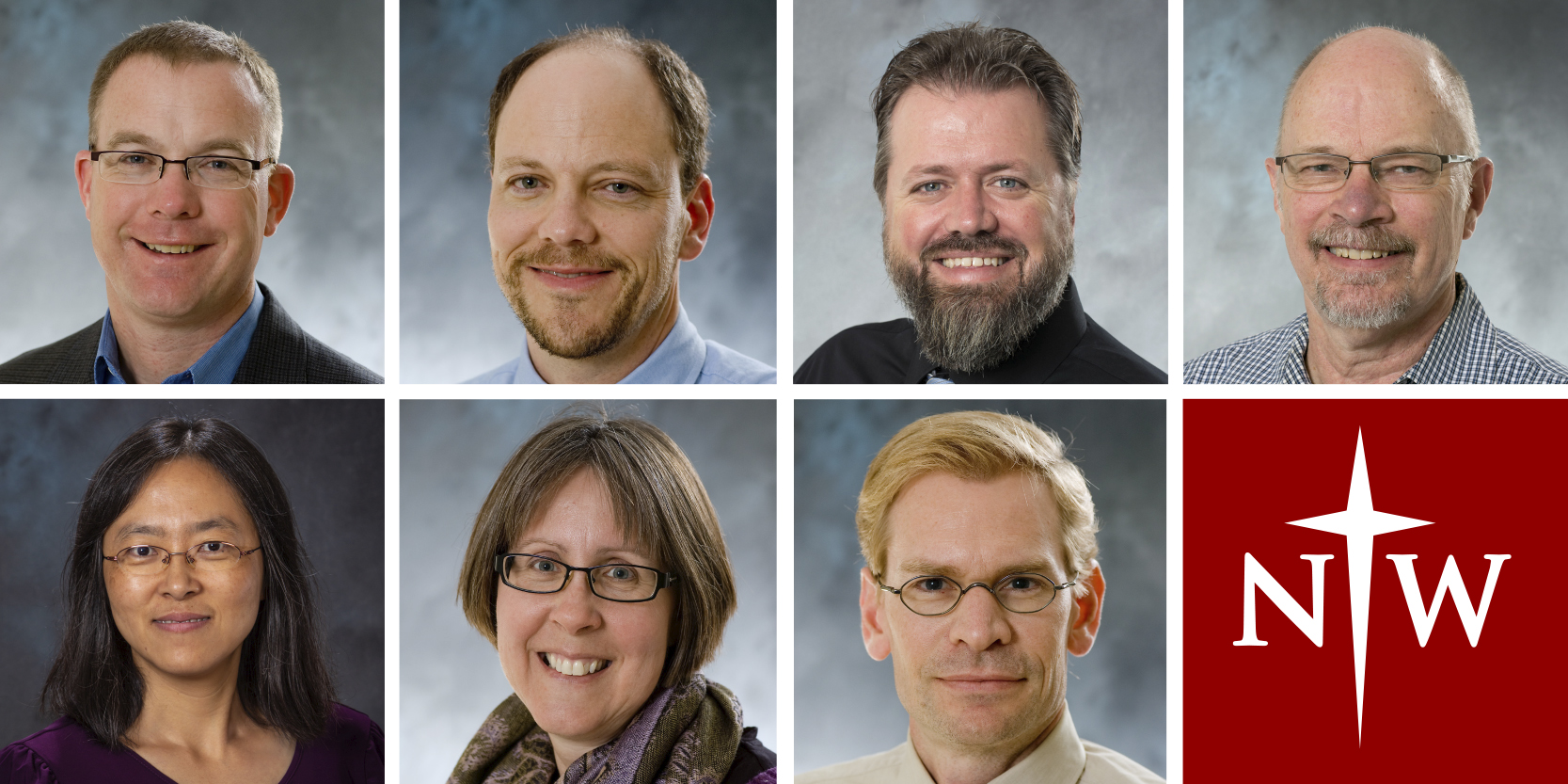 Northwestern faculty: (top row) Dr. Dave Arnett, Dr. Todd Tracy, Dr. Jason Lief, Dr. Byron Noordewier, (bottom row) Dr. Jiying (Jenny) Song, Dr. Sara Sybesma Tolsma and Dr. John Vonder Bruegge.
Seven Northwestern College professors will conduct research and pursue further study this summer with funding from the Northwestern College Scholarship Grants program. The awards, ranging from $2,100 to $5,000, are designed to encourage the production of scholarship for publication and distribution beyond Northwestern's campus.
Grant winners collaborating with students include chemistry professor Dr. Dave Arnett and biology professor Dr. Todd Tracy.
Arnett will explore whether fluorescence correlation spectroscopy can enable him to measure and better understand the growth and activity of heat-shock proteins and their building blocks. Noah Gritters, a senior chemistry, math and biology-health professions major from Pella, Iowa, will serve as his student research assistant.
Tracy will continue his research into the impact the invasive eastern red cedar has on local forests and grassland ecosystems. His student research assistant will be Carter Pennings, a sophomore biology-health professions major from Orange City.
Other grant recipients include Dr. Jason Lief, biblical and theological studies; Dr. Byron Noordewier, biology; Dr. Jiying (Jenny) Song, business and economics; Dr. Sara Sybesma Tolsma, biology; and Dr. John Vonder Bruegge, biblical and theological studies.
Lief will visit Youthfront in Kansas City and explore how social entrepreneurship can be incorporated into youth ministry work. His goal is to rethink Northwestern's youth ministry program and to write a book based on his findings.
Noordewier's research will seek to determine how many types of bacteriophages, or viruses that infect bacteria, might be present in a single soil sample from a single location, as well as whether there are related viruses in nearby locations.
Song will study how servant leadership can contribute to strengthening the role of business as an agent of world benefit. She will review literature, compare theories, and discuss the topic with others in her field, with the goal of producing a paper for the Academy of Management.
Tolsma will use her grant to fund supplies and training needed to prepare Northwestern to participate in SEA-GENES, an initiative of the Howard Hughes Medical Institute in which students will be taught how to discover previously unknown functions of genes.
Finally, Vonder Bruegge will collaborate with Northwestern theatre professor Jeff Barker on a book designed to help churches present oral performances of Jesus' parables in contemporary worship settings. Vonder Bruegge will prepare new translations of 25 parables found in the New Testament, while Barker will provide performance notes.