Northwestern professors awarded tenure and promotions
Thursday, April 16, 2020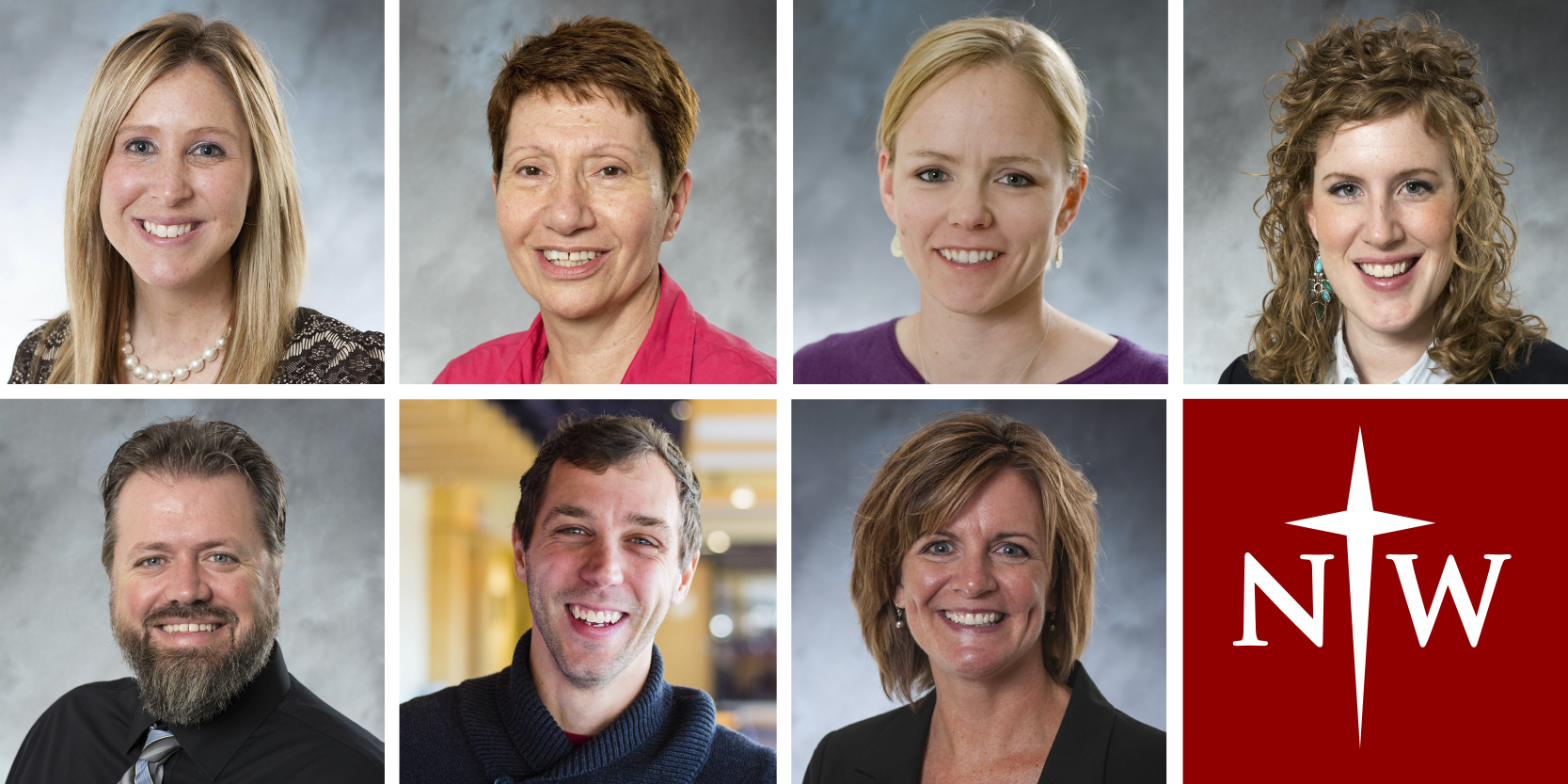 Northwestern faculty: (top row) Dr. Tatum Geerdes, Dr. Diana Gonzalez, Dr. Elizabeth Heeg, Dr. Rebecca Koerselman, (bottom row) Dr. Jason Lief, Drew Schmidt and Donna Van Peursem.
Northwestern College has awarded tenure and promotions to seven members of its faculty, effective this fall.
Dr. Tatum Geerdes, assistant professor of nursing, received tenure. She is a registered nurse who previously worked for the Mayo Clinic in Rochester, Minnesota, and the Mary Greeley Medical Center in Ames, Iowa. A graduate of the University of Iowa's nursing program, she holds a Doctor of Nursing Practice degree from American Sentinel University.
Three other professors received both tenure and promotions: Dr. Jason Lief, to professor of biblical and theological studies; Drew Schmidt, to associate professor of theatre; and Donna Van Peursem, to associate professor of social work.
Lief is a Northwestern College graduate and author of three books who teaches courses in Christian education and youth ministry. He has a master's degree in theology from Wheaton College Graduate School and a doctorate in practical theology from Luther Seminary.
Schmidt is a lighting, sound and projection designer whose work has been featured on Northwestern's stages, the Minnesota Fringe Festival and Orange City's Night Show. He also regularly hosts design workshops for a national theatre festival and heads the media team for a national youth conference. A Northwestern graduate, he has a Master of Fine Arts degree from Illinois State University.
Another Northwestern graduate, Van Peursem is a licensed social worker who earned a Master of Social Work degree from the University of Nebraska Omaha. She worked as a clinical social worker providing mental health services to individuals, couples and families prior to joining NWC's faculty.
Also receiving promotions were Dr. Diana Gonzalez, to professor of Spanish; Dr. Elizabeth Heeg, to professor of biology; and Dr. Rebecca Koerselman, to associate professor of history education.
Gonzalez has a doctorate in linguistics from the University of Göttingen, Germany. Prior to joining Northwestern's faculty, she served with Wycliffe Bible Translators, taught linguistics at universities in Peru and Mexico, and worked as an editor for a publishing ministry in Costa Rica.
Heeg is a Northwestern College graduate who earned a doctorate from Northwestern University's biochemistry, molecular biology and cell biology department. Her research has won grants from the National Institutes of Health, and she works as the product manager for AptarePrep, which has created an MCAT practice-based learning software program.
Finally, Koerselman taught history at Oklahoma Baptist University before joining Northwestern's history department. She is an NWC graduate who earned a master's degree from Iowa State University and a doctorate in U.S. history, with an emphasis on gender and religion, from Michigan State University.