Northwestern to host June faith camp for high school students
Thursday, February 20, 2020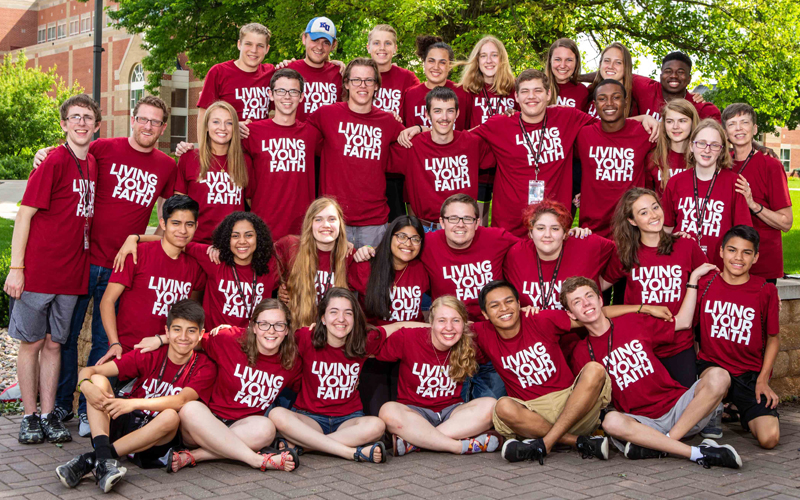 UPDATE ON APRIL 22: In light of financial uncertainties caused by the pandemic, we've reduced the LYF registration fee to $50.
High school students are invited to participate in the fourth annual Living Your Faith (LYF), a one-week campus experience hosted by Northwestern College June 21–26.
The "Christian boot camp" is for students entering their sophomore, junior or senior years. LYF director Dana Van Ostrand, who's been a mentor in the program for the last three years, describes it as a great fit for teens who are serious about their faith and want to spend a week with peers and college-age mentors who feel the same.
 LYF campers will spend their mornings digging into the gospel with Northwestern biblical and theological studies professors and students and spend afternoons engaged in service in the region surrounding the college. The evenings are spent getting a taste of Christian college life as students spend time in small-group activities aimed at fostering belonging and deep, authentic Christian community.
"I learned so much about community and who I am in Christ," says Faith Tyrrell, Marshalltown, Iowa, who participated in LYF last summer. Isaac Morrison of Glenwood, Iowa, adds, "LYF enabled me to make new friends of fellow believers and have great discussions about Christianity. I got incredible insights into my faith and how to both live it and grow it."
Living Your Faith costs $50; the fee covers all LYF expenses, including room, board, field trips, and access to Northwestern campus facilities and amenities. Learn more about Living Your Faith and register at lyf.nwciowa.edu.