Northwestern to host Day of Giving and winter carnival
Thursday, January 30, 2020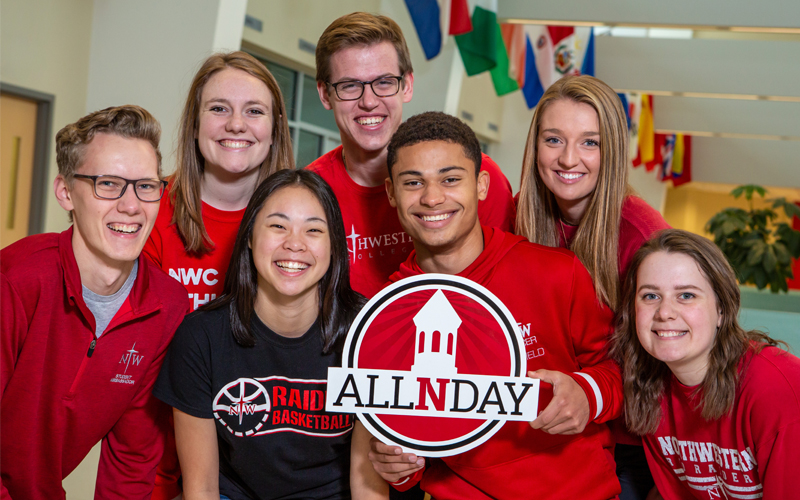 Northwestern College will hold its third annual Day of Giving on Thursday, Feb. 20. Titled AllNDay, the event is designed to encourage alumni and friends of the college to be "all in" with their support of Northwestern. The event will include matching gift challenges and a lunch-hour challenge.
Donors' AllNDay gifts, all directed to the Northwestern Fund, will be doubled through matching gift challenges offered by Northwestern supporters. The college's National Alumni Board has offered a $10,000 match, the National Advisory Council has pledged a $20,000 match and Northwestern's Board of Trustees has offered a $40,000 match. Finally, if all gifts are matched by 5 p.m. on Feb. 20, two anonymous donors will give additional AllNDay contributions totaling $10,000.
The Pizza Ranch Lunch-Hour Challenge will take place between 11 a.m. and 1 p.m. CST. Donors who give $50 or more during the challenge will be entered into a drawing to win one of five $100 Pizza Ranch gift cards.
AllNDay participants will have the opportunity to vote for a Northwestern department or program when they donate, and the top vote-getter will receive $500. Additionally, live updates and campus tours will take place throughout the day via the Northwestern College Alumni Facebook page.
AllNDay gifts may be made beginning Feb. 17 through the Day of Giving website, allnday.nwciowa.edu.
As a conclusion to the AllNDay activities, Northwestern's National Alumni Board will host a new event, the Raider Winter Carnival, on Saturday, Feb. 22. The event will take place in the Rowenhorst Student Center from 9:30 to 11:30 a.m. The free carnival is open to the public and will include inflatables, an obstacle course, miniature golf and a variety of other activities.
Orange City's American Legion chapter will serve a breakfast of pancakes, sausage and scrambled eggs from 7:30 to 11 a.m., also in the Rowenhorst Student Center. Breakfast tickets, which can be purchased at the event, are $8 for adults, and children ages 5 and under eat free.