Howard Hughes Medical Institute invites Northwestern to join SEA-GENES project
Thursday, January 30, 2020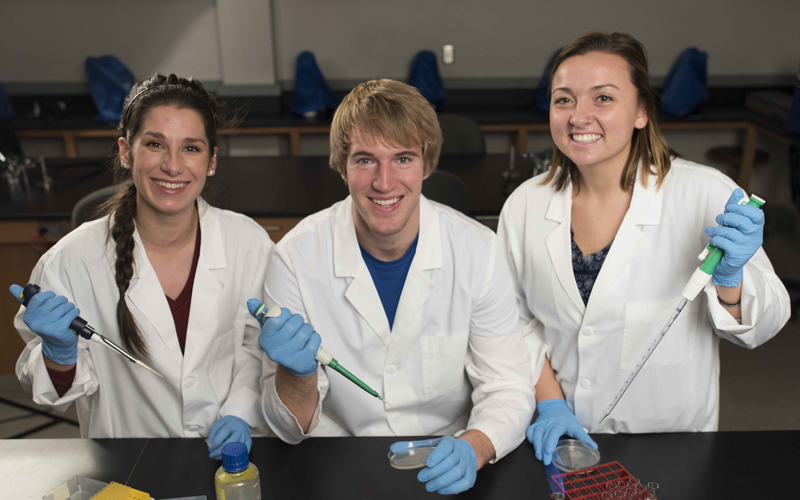 Northwestern has been accepted into the second cohort of colleges and universities participating in the SEA-GENES project. The research program enables students to discover previously unknown functions of genes.
Northwestern College has been accepted into the second cohort of colleges and universities participating in the SEA-GENES project, a program offered by the Howard Hughes Medical Institute's Science Education Alliance that enables students to discover previously unknown functions of genes. Just eight institutions are part of this cohort.
SEA-GENES is a sequel to SEA-PHAGES, a program Northwestern was invited to join in 2016. Currently Northwestern is one of just two institutions in Iowa and one of just 40 baccalaureate colleges worldwide involved in SEA-PHAGES, which gives students the opportunity to contribute to a global effort to discover phages, the term for viruses that infect bacteria.
At Northwestern, SEA-PHAGES is integrated into two courses. Students begin by discovering, purifying, characterizing and naming a phage. Then, once the DNA of a phage has been sequenced, they learn how to annotate the sequenced phage genomes. To date, more than 40 Northwestern undergraduates have peer-reviewed publications as a result of their phage research and discoveries.
"Research and publishing opportunities for undergraduates make our science programs distinct and give our students a decided advantage as they pursue graduate school or a career," says Dr. Nathan Phinney, Northwestern's vice president for academic affairs. "Perhaps more importantly, the SEA-PHAGES and SEA-GENES programs provide opportunities for students to learn about God's world and understand their future careers as callings from God."
Dr. Sara Tolsma, professor of biology at Northwestern, is excited about the science involved in the SEA-GENES program. "When students are annotating a gene with an unknown function, they're curious about what it does," she says. "This project will start to uncover the functions of millions of protein-encoding genes."
Tolsma points to two factors that led to Northwestern's acceptance into just the second cohort of the SEA-GENES program: the strong support for the program among faculty and administration, and the college's new DeWitt Family Science Center, opened in January 2019.
"The SEA-GENES course had already been proposed and approved at the time of our second application," Tolsma says. Four Northwestern biology professors will go through the SEA-GENES training this spring. Then, starting in the fall 2020 semester, students will take a two-credit SEA-PHAGES lab, a four-credit genetics and genomics course, and finish with the two-credit SEA-GENES lab.
In addition to the involvement of the majority of Northwestern's biology professors in the SEA-GENES program, Northwestern's application also highlighted the advantages of its new science center.
 "We purposely built a building that has space for student-faculty collaborative research," Tolsma says. "Some of the equipment we bought for the building ended up being critical. We would have needed to buy it to offer SEA-GENES, but we already had it, so we were perfectly poised to launch the program."
---
Northwestern's biology department offers numerous hands-on experiences and elite research opportunities in the new $24.5 million DeWitt Family Science Center. With expert professors who are committed Christians, you'll be prepared to bring your faith to the complex questions facing today's scientists. And you'll be ready to follow in the long line of Northwestern graduates who have achieved high scores on the MCAT and been accepted by prestigious medical and graduate schools.