High school students interested in theatre invited to explore Northwestern's stage
Wednesday, January 15, 2020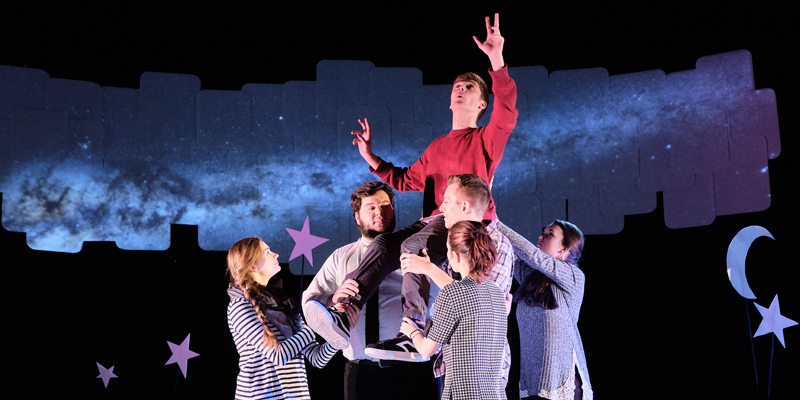 High school seniors interested in theatre are invited to visit Northwestern College for Theatre Raider Days Feb. 14 and 15. Activities start at 10 a.m. on Friday and continue through Saturday afternoon.
On Friday, participants will tour the DeWitt Theatre Arts Center as well as the rest of campus. They can also ask a panel of professors questions about the theatre department's programs, classes and productions. In the evening, students will have dinner with current theatre students and then attend the music department's Symphonic Band concert.
Friday's schedule will also include the opportunity to audition or interview for theatre scholarships. Scholarships are available for performance, playwriting, and technical and stage management roles in Northwestern theatre. Awards are based on candidates' theatre skill, experience and plans to be actively involved in Northwestern theatre.
On Saturday, guests will enjoy breakfast and activities with current Northwestern theatre students and then attend the opening performance of the musical "Bright Star." Events and meals during Theatre Raider Days are free; student attendees are able to stay with Northwestern students in the residence halls. Parents are also invited to attend.
For more information or to register, visit nwciowa.edu/TheatreRaiderDays or contact Becky Donahue in Northwestern's theatre department at 712-707-7341 or becky.donahue@nwciowa.edu. Space is limited.
---
Regarded as one of the best Christian college theatre programs in the country, Northwestern's features a collaborative, excellence-oriented environment committed to helping students develop their creative gifts for service in God's kingdom. Study with Northwestern's award-winning faculty in the outstanding facilities of DeWitt Theatre Arts Center.