Northwestern College announces academic program changes
Tuesday, December 17, 2019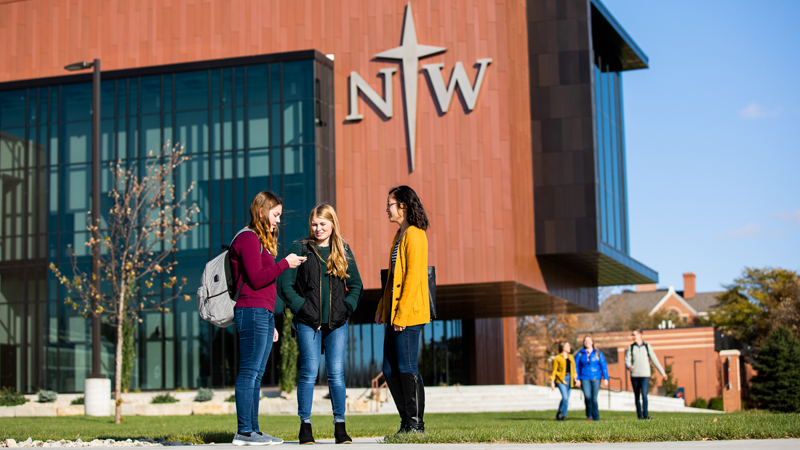 As part of an effort to address enrollment trends affecting colleges across the country, Northwestern College has announced changes to its academic program that will go into effect for the 2020–21 academic year.
Northwestern's academic program changes stemmed from an 18-month, faculty-led process of analyzing the quality, productivity, relevance and opportunity of every academic program currently offered to ensure the college continues to flourish long into the future.
Northwestern will discontinue its majors in literature, philosophy, and writing and rhetoric. Literature and writing and rhetoric courses will become part of a newly redesigned English/English teaching major, while philosophy course content will be available through other humanities courses and the opportunity students have to self-design majors.
Northwestern will provide teach-out plans for students in the closing programs so they can graduate with their current majors. Fewer than 10 underclassmen are affected.
In addition, Northwestern is making small adjustments to the number of faculty in certain undergraduate programs to better align with the number of majors in those programs. The two efforts combined will result in a reduction of 11 undergraduate faculty positions, five of which will occur through retirements.
"We, like numerous peer institutions across the country, are seeing the number of prospective undergraduates in our target market declining while students and those who employ them after graduation are requiring different academic preparation than colleges have provided in the past," says Northwestern College President Greg Christy. "Northwestern is making hard, yet strategic, changes now to address these market realities and ensure our ability to flourish in the future. Unlike many of our peer institutions, Northwestern is proactively making these difficult decisions from a position of strength."
Christy noted that Northwestern's fall 2019 enrollment featured the largest freshman class in five years and, thanks to growing graduate and adult learning programs, total enrollment set a record with 1,414 students. He also said Northwestern is in an enviable financial position relative to many colleges and universities, with a healthy endowment and minimal debt, and has exceptional facilities.
Christy says the decisions to control costs and align academic programs with student demand were made with Northwestern's Christian mission and commitment to maintaining a strong liberal arts core as the foundation for all programs paramount in mind.
"Faithful stewardship of Northwestern's resources—including the financial savings we'll realize by making these changes—will enable us to continue exploring and investing in programs that ensure Northwestern provides a standout education," says Christy.
He cited several investments the college has already undertaken to enhance key programs and attract new students:
Seven full-time faculty and staff members have been hired for Northwestern's new master's degree program in physician assistant studies, which has received accreditation and will begin in May.
A faculty member has been hired as clinical coordinator for the new master's degree program in athletic training program, which is also accredited and set to begin in May.
Significant funds have been invested in renovating Van Peursem Hall classrooms and laboratories for those two new on-site graduate programs.
A faculty member was added to the business department to accommodate increased enrollment in that department's majors.
Significant resources have been committed to the online Master of Education program, which now has seven degree tracks and continues to exceed enrollment goals.
Plans are underway for the formation of a new Center for Innovation and Leadership that will provide enhanced opportunities for students to learn as innovators across all academic disciplines and partner with area businesses and organizations to grow through leadership opportunities.
For more information about Northwestern's academic program changes, visit nwciowa.edu/strategizing-for-strength.