Joshua Kuipers '09 Director of Worship
712-707-7259
joshua.kuipers@nwciowa.edu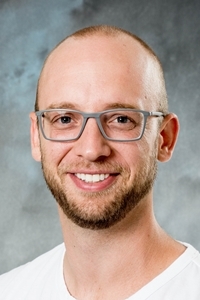 As Northwestern's director of worship, Josh Kuipers works with other members of the campus ministry staff to develop engaging, innovative, Christ-centered worship for the college's twice-weekly chapel services. He mentors and supervises student worship leaders and teams for chapel and student-led Sunday Night Praise & Worship. He also supports faculty in the college's worship-oriented majors: music and worship leadership, and worship arts.
Prior to joining Northwestern's staff, Josh was the director of middle school ministries for First Reformed Church in Sioux Center. He also served as the director of children and youth ministries at American Reformed Church in Orange City and as a worship leader for House of Missions and Equipping, a base for prayer and worship in the community of Sioux Center.
Josh is a Northwestern graduate who earned a degree in Christian education and youth ministry. While a student at NWC, he was a member of the Campus Ministry Team, played on the chapel worship team, helped run AV and sound for chapel, and sang in the A cappella Choir.