Adam Timmerman Autographed Green Bay Helmet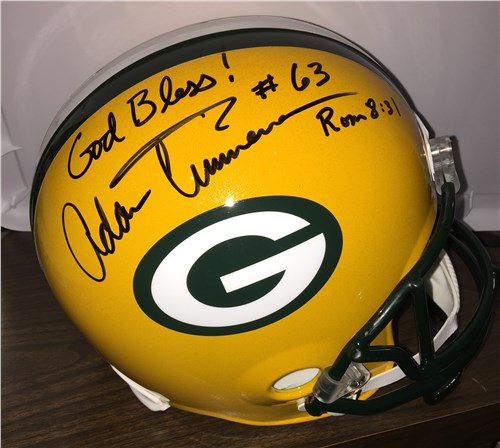 Adam Timmerman was a 4-Time Pro-Bowl lineman for the Green Bay Packers and St. Louis Rams. Timmerman was the key protector of the great Brett Favre and Curt Warner during their respective Super Bowl runs. Adam went on to appear in 4 Super Bowls, two each with the Packers and Rams, winning a title with each team. Adam was instrumental and respected not only on the field, but in the locker room as a spiritual leader as well. What a great piece of memorabilia from one of our local (Cherokee and SDSU) great NFL men of faith!
This item is available in the audible auction.
Donated by
Kevin & Karen Brasser, Paullina, IA
How to bid
You can bid on this item at the Scholarship Auction on Saturday, FEB. 9, 2019. The silent auction and buy-it-now starts at 9 a.m. and the first section closes at 9:45. The audible auction starts at 11 a.m.
---