Diamond Stud Earrings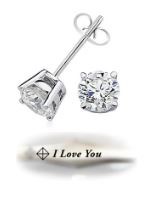 These 1/10 carat total weight diamonds are set in 14K white gold to enhance their sparkle, and the diamonds are laser engraved. Part of Windmill Park's Lifetime Trade-Up Program for diamond basics. Whenever you're ready, just bring these earrings into the store and trade up to a larger pair. Pay only the difference in price!
This item is available in the audible auction.
Donated by
Windmill Park Jewelers, Orange City, IA
How to bid
You can bid on this item at the Scholarship Auction on Saturday, FEB. 9, 2019. The silent auction and buy-it-now starts at 9 a.m. and the first section closes at 9:45. The audible auction starts at 11 a.m.
---